Clifton D. Gray
President 1920-1944 – 'The Human Aspects'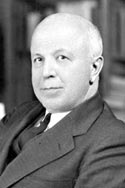 Clifton Daggett Gray, clergyman and former editor of the Baptist publication The Standard, led Bates through an era of expansion and the challenges posed by the Great Depression and World War II. Gray increased student enrollment from 527 to a pre-World War II high of 749, grew the faculty from 36 to 70, and doubled the endowment.
He was keenly interested in what one observer called "the human aspects of college life." In that vein Gray championed the expansion of Bates debate, and in 1921, Bates became the first college to debate abroad, taking on Oxford University. He strengthened programming for women and took an interest in student health services. New construction included Alumni Gym and Clifton Daggett Gray Athletic Building.
Perhaps President Gray's great success was keeping Bates on an even financial keel as the country was rocked by the Great Depression and World War II. With the 1929 stock market crashed and subsequent depression, many wondered just who could afford the $600-a-year tuition. Yet Bates operated in the red for just one year during the Great Depression.
When World War II came, Bates, though coeducational, still saw enrollment decreases, so President Gray convinced the military to station a V12 Naval Training Program on campus — in fact, Bates' V12 session included 90 students from Bowdoin).