George C. Chase
President 1894-1919 – 'The Great Builder'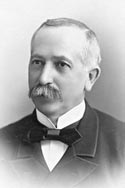 George Colby Chase, a member of the Bates Class of 1869, taught for 22 years as professor of English before becoming Oren Cheny's successor as president. Known as "the great builder," he oversaw the construction of 11 new buildings, including Coram Library, Carnegie Science Hall, Rand Hall, the Chapel and Chase Hall. Under his presidency the number of students and faculty tripled. His extensive philanthropic travels for Bates grew the endowment; back on campus, Chase fostered a new activity: intercollegiate debate.
It is written that "the tenderness of his nature was exquisite," and President Chase almost personally shouldered the burdens of leading Bates; when traveling on College business, he would have his son take his trunks to the train station to save the money of a porter. When the faculty said they thought students should bear more of the cost of their education, he reluctantly approved a five-dollar tuition increase (the Trustees later voted to raise the cost $15, making tuition $90).
Chase taught at least one course throughout his entire incumbency. His home on Frye Street (now Chase House) was used for admission interviews, student progress checks, and upon graduation, for letters of reference.
In April 1919, at the age of 74, Chase wrote to the Trustees regarding his retirement, and the selection of a new president. On May 27, 1919, the day after signing the year's diplomas, George Colby Chase died.