A Brief Founding History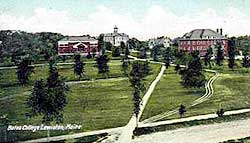 In the mid-19th century, Oren B. Cheney, a minister of the Freewill Baptist denomination in Maine, conceived the idea of founding a new school.
The school was to be a seminary — a 19th-century term suggesting a "fitting school" for college — and received its charter from the Maine Legislature on March 16, 1855.
1857. The Maine State Seminary opens on Sept. 1 with 115 students and six teachers. Enrollment totals 137 by term's end.
1861: Fifteen students petition for college instruction. Later, in 1862, another group of students, "some with tears in their eyes," according to The Life-Story of O.B. Cheney, come before the trustees to lobby for a college course.
1862: Cheney and the trustees push for college instruction, and the Maine Legislature amends the seminary charter, giving the school the authority to "establish a collegiate department in connection within said Seminary."
1863: The seminary offers college instruction to 22 students. Eight go on to become, in 1867, the first graduating class of Bates College.
1864: The Maine Legislature changes the school's name from "President and Trustees of Maine State Seminary" to "President and Trustees of Bates College," in honor of Benjamin E. Bates, one of many Boston-based entrepreneurs who had invested in Lewiston textile manufacturing and begun to financially support the seminary. Bates accumulated wealth in the antebellum years from the labor of enslaved people who grew the cotton that was spun and woven in his mills.
1867: Bates College holds its first Commencement on July 31, 1867. The first graduating class numbers seven men.