Oren B. Cheney
Founder – First President of Bates College, 1855-1894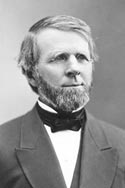 Oren Burbank Cheney was born in 1816 in Holderness, N.H., to prominent abolitionist parents. He was educated at the Parsonsfield Seminary (a Freewill Baptist school) and Dartmouth College, graduating with the Class of 1839.
Influenced particularly by his mother, Cheney developed core beliefs in the causes of abolitionism and temperance, and these were unswerving values throughout his life as a teacher, Freewill Baptist minister, state legislator, editor of The Morning Star abolitionist paper and founder and president of Bates College.
In 1855, Cheney founded the Maine State Seminary, the school that would become Bates College. The school reflected his personal values: it was open to all students regardless of race, gender, wealth or religion. In 1863, Cheney petitioned the Maine Legislature for a change in the charter to permit a collegiate course of study. He changed the school's name to Bates College in honor of Benjamin E. Bates, the industrialist and philanthropist who made substantial early gifts to Cheney's school.
Cheney served as Bates' president for 39 years, retiring at age 79.