Charles F. Phillips
President 1944 to 1966 – A Plan for Bates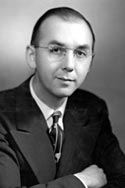 Appointed at age 34, Charles Franklin Phillips was Bates' youngest president, yet his initial achievement — initiating the famous Bates Plan of Education — championing the most traditional strength of the College, the liberal arts, as "the basis of a worth-while career." The Bates Plan featured a core curriculum of liberal arts study as well as the "3/4 option," permitting a three-year degree. Phillips also expanded the campus with the additions of Memorial Commons, Health Center, Dana Chemistry Hall, Lane Hall, Page Hall, Schaeffer Theater and others.
Prior to coming to Bates, Phillips was a full professor at Colgate and a leading economist. At the time of his interview at Bates was on leave from Colgate and working for the U.S. government in the Office of Price Administration and Civilian Supplies as deputy administrator in charge of rationing. Known for bridging the gap between the academic and business worlds, Phillips won friends for the College. He encouraged the entrepreneurial spirit of graduates by suggesting they not join a large business, but start their own. Convinced that the American economic and political systems thrive on competition, Phillips applied this theory to Bates and its graduates. Phillips was famous for keeping a tight schedule, and for working late hours.
Phillips retired in 1966, leaving a student body of 1,004 and an endowment of nearly $7 million. He and Evelyn lived in Auburn after retirement, and upon their deaths the landmark Phillips bequest of $9 million has endowed a variety of student and faculty programs.