Euterpe Boukis Dukakis, Class of 1925 — An Immigrant's Story
Her life began in Larissa, Greece, in 1903 and ended, nearly a full century later, in America. In between, Euterpe Boukis Dukakis '25 blazed a trail for immigrants, becoming the first Greek-American woman to attend a U.S. college away from home.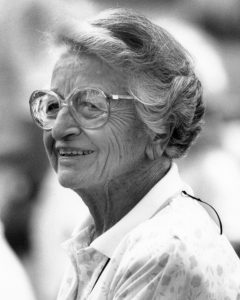 A brilliant and diligent student who came to Bates from Haverhill, Mass., where her immigrant family settled, she engaged in extracurricular activities, earned membership in Phi Beta Kappa, and remained loyal to Bates her entire life, establishing in 1994 the endowed Euterpe B. Dukakis Professorship in Classical and Medieval Studies.
Her success led the way for other Bates students from immigrant families; the late Trustee emerita Helen Papaioanou '49 recalls, as a student, briefly meeting Dukakis and her husband, Panos '22:
"She said to me, 'We are proud of you!' In that moment, there was an acknowledgment of connectedness, of heritage, experience, struggles, dreams and aspirations."
In her mid-80s, the woman her classmates nicknamed "Zippy" proved again her intellect and mettle, campaigning for her son, Michael, the 1988 Democratic nominee for president. She flew to events around the country, spoke to senior-citizen groups and sat for media interviews.
She once said about growing old, "Get my body, but don't take my curiosity," and, in Greek, she expressed love for her family this way: "I love you. I love you, like my own two eyes."