Edmund S. Muskie
Class of 1936 – Governor, Senator, Presidential Candidate, Secretary of State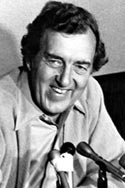 Edmund Sixtus Muskie was born in 1914 in Rumford, Maine. The son of a Polish immigrant tailor, he attended public schools and graduated as the valedictorian of Stephens High School. At Bates he was class president and debated. He graduated in 1936 cum laude and went on to Cornell Law School. He enlisted in the Navy during World War II and served both in the Atlantic and Pacific theaters.
Muskie was elected Maine's governor in 1954 and served two terms before winning election to the U.S. Senate in 1958. As Maine's senator for 21 years, he authored landmark environmental legislation, including the Clean Air and Clean Water acts, regarded as two of the most important bills of the 20th century (which earned him the nickname "Mr. Clean"). Muskie was also the first chair of the Senate Committee on the Budget and served on the Foreign Relations Committee, among other committee assignments. In 1968, Muskie was Democratic presidential nominee Hubert Humphrey's running mate. He ran for president in 1972 and in 1980 left the Senate to serve as secretary of state under President Carter.
Muskie donated his papers to Bates, and they are the cornerstone collection of the Edmund S. Muskie Archives and Special Collections Library.