June 1993: 'College Bowl' champs reunite at Reunion
In spring 1961 and fall 1961, two different Bates teams on the College Bowl quiz show reeled off seven straight victories (complete results below) and retired without a loss, the winningest undefeated school in the history of the 1959-1970 TV show.
At Reunion in June 1993, members of the spring 1961 team and the fall 1961 team reunited, and before a large alumni audience in the Chapel teammates viewed films of two shows and faced off for a quiz.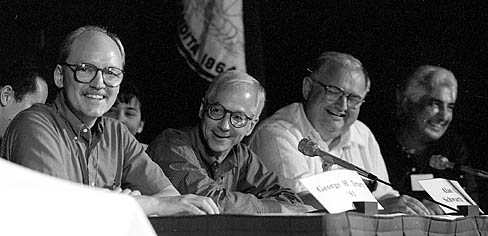 The secret to their success more than 40 years earlier? The famous Cultural Heritage courses, according to Alan Schwartz '61 (above, second from left, with George Drury '61, Steve Wardwell '61 and Casimir Kolaski '64). "We started out reading the ancient Greeks and finished up reading Freud," Schwartz, the Sterling Professor of Law at Yale Law School, said in an interview with The Associated Press in 1993. "We were pretty well-read."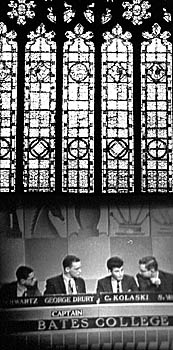 But Cultch didn't cover everything. One question asked what acetic acid combined with a certain oil might create. Drury, captain of the spring team, knew immediately: salad dressing. "Even then I could mix up a good vinaigrette," he told the AP.
Cultch stuffed the students with knowledge deemed vital at the time, but it was boldness that defined the Bates teams, Drury says. Pursuing his master's degree at the University of Denver, Drury coached Denver's College Bowl entry during the 1963-64 season. "The thing missing from that team, it turned out, was a gambling spirit," he notes, "a willingness, even eagerness, to push the button while the brain was still rummaging around for the answer."
For its success, the Bates teams earned $12,000 in scholarships from the show's sponsors, General Electric. (The money is still around: the General Electric Company Scholarship Fund is part of the Bates endowment and now has a value of $41,053.19. In 2003-04, the GE fund provided a scholarship grant to Leslie Milk '05 of Elma, N.Y., a physics major with secondary concentrations in engineering, mathematics and economics.)
Coached by George Goldat, assistant professor of cultural heritage, the Bates teams earned a spot in the College Bowl Hall of Fame, the only college in the show's history to win seven games. (Twenty-seven schools retired with five wins.)
"It was a massive achievement," College Bowl creator Don Reid told the AP. "No one else matched that."
At Reunion 1993, alumni of the two teams returned to Bates to celebrate The College Bowl Revisited. Some returned with trepidation. Schwartz told the AP, "I'm sure it's going to be a humiliating experience. I used to know a lot more about Plato than I now know."
The 1993 event drew a full house to the Chapel and featured films of matches vs. Muhlenberg and Wheaton, the first time Drury had seen one of his shows. "The local television show was supposed to show one on Commencement weekend, but there was a power failure, and we sat watching a blank screen, hoping the power would come back on."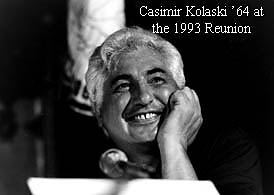 As he sat watching the Muhlenberg tape 32 years later, he was somewhat surprised to find himself sitting on the edge of his chair answering the questions all over again as he watched.
Dean of Students Celeste Branham served as quizmaster for the Reunion competition. It was a nostalgic experience for her, too, because back when Bates was cruising through the College Bowl, Branham was a very much impressed fourth-grader at St. Peter's School in Lewiston. "I was in awe of them," remembers Branham, who added with a laugh, "I'm still in awe of them."
Material from The Associated Press and the Bates Alumni Newsletter, Summer 1993, was used in this story.
Bates and the College Bowl
complete results (source for scores: www.collegebowl.com)
Spring 1961
Members: Alan Schwartz '61, George Drury '61, Casimir Kolaski '64, Steve Wardwell '61
June 4, 1961
Bates 195
Muhlenberg 50
June 11, 1961
Bates 225
George Washington 180
Fall 1961
Members: John Bart '64, Casimir Kolaski '64, Nicholas Maistrellis '62, Jeffrey Roualt '65, Bernice Schulte '62 (alternate).
Nov. 19, 1961
Bates 210
Brandeis 165
Nov. 26, 1961
Bates 205
Trinity (Texas) 140
Dec. 10, 1961
Bates 155
Macalester 135
Dec. 17, 1961
Bates 275
North Dakota-Grand Forks 30
Dec. 24, 1961
Bates 390
Wheaton 100