Maine Honors Bates' 150th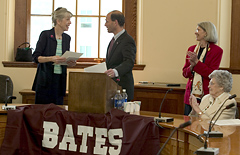 President Hansen accepts proclamation from Gov. Baldacci as State Sen. Peggy Rotundo and Jane Ault Lindholm '37 (seated) applaud.
The state of Maine's pivotal role in the founding of Bates College 150 years ago made Monday afternoon's Statehouse celebration, featuring a "Bates College Day" proclamation by Maine Gov. John Baldacci and a legislative joint resolution sponsored by State Sen. Peggy Rotundo, D-Androscoggin, a proud event for both college and state.
The 2 p.m. gathering took place at the Augusta Statehouse in the Legislative Council Chambers.
"We are fortunate to have Bates College in our state," Baldacci said in his remarks. "Not only for the good work it does in Lewiston-Auburn, but throughout the state, and for the recognition that we get because of the greatness of the institution throughout the country."
Baldacci's proclamation compared the motto of Bates College, Amore ac Studio, translated "with ardor and devotion," to "the spirit evoked by the state of Maine motto, Dirigo, 'I lead,' admirable qualities embodied by Bates graduates who have served the public good of our state and our nation, epitomized by the late Edmund S. Muskie of the Class of 1936, Maine governor, U.S. senator, U.S. Secretary of State, and son of Maine…."
Baldacci, in his remarks, noted that "sometimes what seems like a modest bill can have wonderful long-term effects for Maine. The 1855 charter that authorized the institute that later became Bates College is a signal example…. Starting as almost entirely a Maine institution, it has become a world-renowned institution, and part of Maine's reputation for excellence and productivity."
Baldacci noted also that Bates was recently named the No. 1 "Best Value" college in America by The Princeton Review "for its combination of superb academic offerings, high graduation rates, and reliable and generous financial aid awards."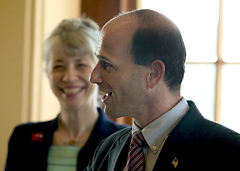 Elaine Tuttle Hansen, president of Bates, noted Bates founder Oren Cheney's efforts to seek passage of the bill to establish what was then called the Maine State Seminary. While the final act of passage took only a few hours in March 1855, he toiled for months to secure its approval.
"Then as perhaps now, the bill addressed primarily the State's commitment of an allocation of funds for the Maine State Seminary," she said. "The simple truth is that probably Bates would not have existed without some sustained lobbying and some state seed money. Some things never change."
Hansen also invited the gathered guests to "take part in Sesquicentennial events and celebrations, to learn more of the history of the College, and to join us in an ongoing discussion of how Bates, founded on principles of academic rigor and human egalitarianism, can honor its founders' dreams as it continues to become one of the finest liberal arts colleges in the world."
In comments prior to today's event, Baldacci reflected on Bates' contemporary mission, both in Maine and around the world. "Each successive generation grows up to face a new set of challenges, whether here in Maine or across the nation and globe," he said. "What should hearten us all is that great liberal arts colleges like Bates College excel at giving men and women adaptable skills to succeed in a rapidly changing world and to contribute to its betterment. At 150 years old, Bates has never been more relevant and important."
With 37 legislators joining Rotundo as co-sponsors of the joint resolution, the Maine Legislature, with its vote on April 28, honored the public-spirited efforts to found the College in 1855.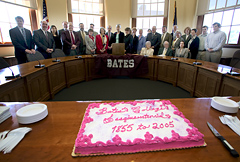 Those efforts were led by Cheney, a former member of the Maine Legislature, who, in the words of today's resolution, "saw a great, unmet need in the State: to broaden the educational opportunities for young men and women through the founding of a new institution of higher learning…."
In its conclusion, the joint resolution honors Bates as a college that "prizes the inherent values of a demanding education and the profound usefulness of learning and understanding and is committed to academic rigor and ensuring in all its efforts the dignity of the individual and…for its unswerving commitment to providing an education in the liberal arts and sciences, recognizing their critical role in a just and civil society…."
Rotundo is associate director of the Center for Service-Learning at Bates, and among the joint-resolution cosponsors are five Bates alumni (Sen. Kevin Raye '81, R-Washington, and representatives Gerald Davis '59, R-Falmouth; Kenneth Lindell '86, R-Frankfort; Elaine Makas '67, D-Lewiston; and Sawin Millett '59, R-Waterford) and a Bates parent, Sen. Michael Brennan, D-Cumberland, whose son Ryan is a member of the Class of 2007.