Henry Chandler
Class of 1874 – First African American Graduate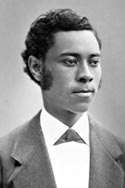 Henry Wilkins Chandler was the first African American student to graduate from Bates. Chandler was born free, while six of the first nine African American students at Bates were former slaves, most recruited by Bates founder Oren Cheney from refugee camps around Washington, D.C., during and after the Civil War.
Born in 1852 in Bath, Maine, Chandler excelled in the public schools. At Bates, he was an editor of The Bates Student, then a monthly magazine (the student staff was hand-picked by professors for their budding literary talent) and was on the executive committee of the Eurosophian Literary Society. After graduating from Bates in 1874, he studied law at Howard University and then moved to Florida with "only two dollars and one half in his pocket."
After a year of teaching, he passed the Florida Bar and began practicing in Jacksonville. He was soon editing The Ocala Republican and The Plain Dealer newspapers. In 1880, Chandler was elected to the state senate and held office for two terms. He is also held office as city clerk and alderman and was a state delegate to the Republican National Convention several times.