Thomas Hedley Reynolds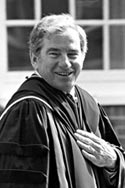 President 1967-1989 – Champion of the Faculty
Arriving at Bates during a tumultuous time for U.S. colleges, Thomas Hedley Reynolds was also faced with students upset by strict campus social rules reflecting 1950s sensibilities. He guided the College through the campus tensions of the late 1960s and 1970s with a renewed emphasis on involving all members of the community in decision-making. During the national student strike as part of the Vietnam War protests, Reynolds joined with students in discussions, letter-writing campaigns, peaceful marches and a volunteer spring clean up in Lewiston.
Reynolds' worked at improving faculty salaries in an effort to attract and retain high-quality professors. The faculty achieved greater gender equity during the Reynolds years, as well as an improved faculty-student ratio. His own experience as a teacher and a scholar allowed Reynolds to recognize teaching and scholarship as complimentary professorial activities, and he encouraged faculty research and creativity as well as closer faculty involvement in the governance of the College through elected committees.
Reynolds oversaw the building of the Ladd Library, Merrill Gymnasium, the Olin Arts Center, the conversion of the former women's athletic building into the Edmund S. Muskie Archives and Special Collections Library and the acquisition of the Bates-Morse Mountain Conservation Area. The houses on Frye Street were also acquired primarily during the Reynolds presidency. While key facility improvements also marked his tenure, the championing of the Bates faculty was perhaps his greatest achievement.
Reynolds died on Sept. 22, 2009. Read his obituary here.