Import Course Content
Instructors can easily copy content from one Lyceum course to another by using the 'Import' utility. They can choose to move all of the content of a course from one to another. They can also choose to select specific content from a course and move that. Follow these steps to get started:
*Note if you are using Perusall, follow this help sheet on how to move over existing material from another Perusall course (using the 'Materials from another course' option) or add new material such as Textbook, Articles, etc.
Import All Course Content
Navigate to your course where you will want the content imported into
Select the gear icon on the right-hand side of your Lyceum page and select 'Import' from the drop-down menu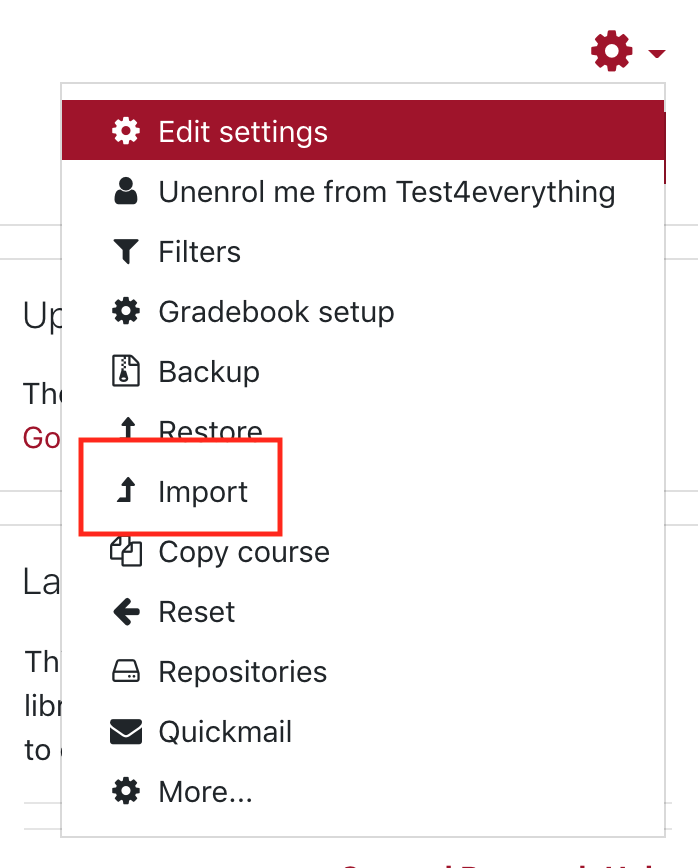 Import Selected Course Content
Follow steps 1-4 above
Once you are directed to the 'Import settings' page, click the 'Next' button. As mentioned before, this will allow you to check your content but you can also deselect content you do not wish to import. This will allow you to import only specific content over
If there are only a few items you with to import over but there is a lot of content, you can select 'None' at the top of the page. This will deselect all of the content and you can then select the specific items you'd like to move over
Once you are done selecting all the content you wish to import, click 'Next'. The green check mark will indicate items to be imported
Follow step 6 above