Lyceum Course: Basic Setup
As an instructor, you have a lot of control over how your course appears to your students. This guide will help explain the different options when setting up your course.
All courses that you are enrolled in appear in a list under 'My Courses' in the navigation bar to the left of your page. Note that the courses that appear are only the ones you are enrolled in during your current semester. Past or future courses can be found on your dashboard using the dashboard filter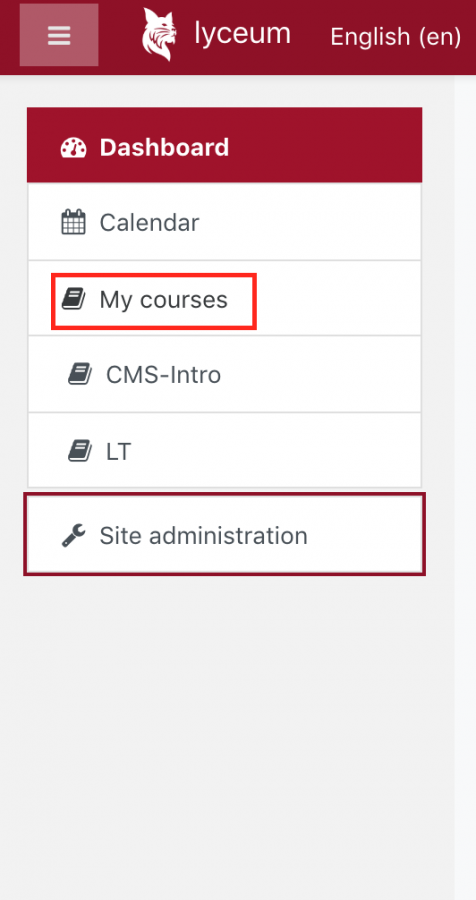 Once you select the course that you would like to setup, you will be directed to the course homepage. On the right-hand side of the page (next to course name), you will see a gear icon to click.

You will now see a list of different options and shortcuts that you can use within your course homepage, such as editing the settings of your course and restoring and importing material into your course.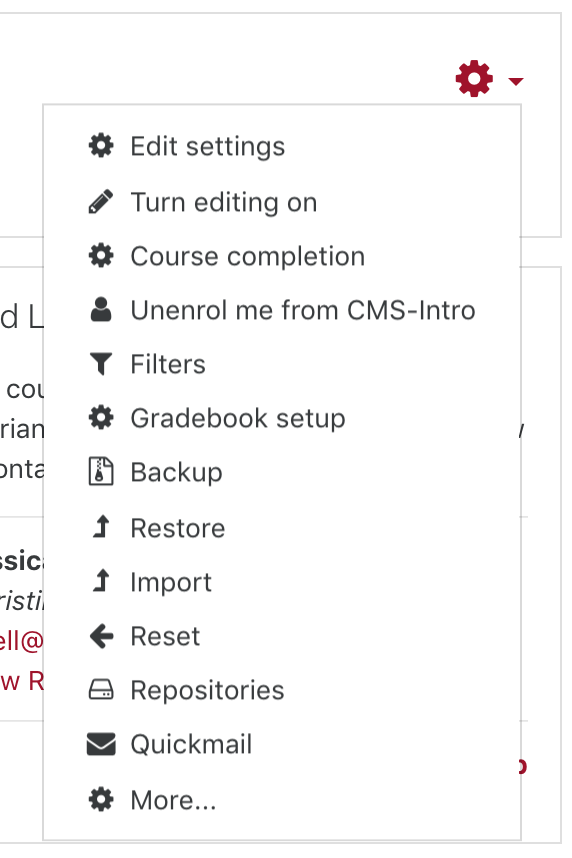 Adding and Editing Content
Select 'Turn editing on' (the second option from the top) to edit your course page and add/edit content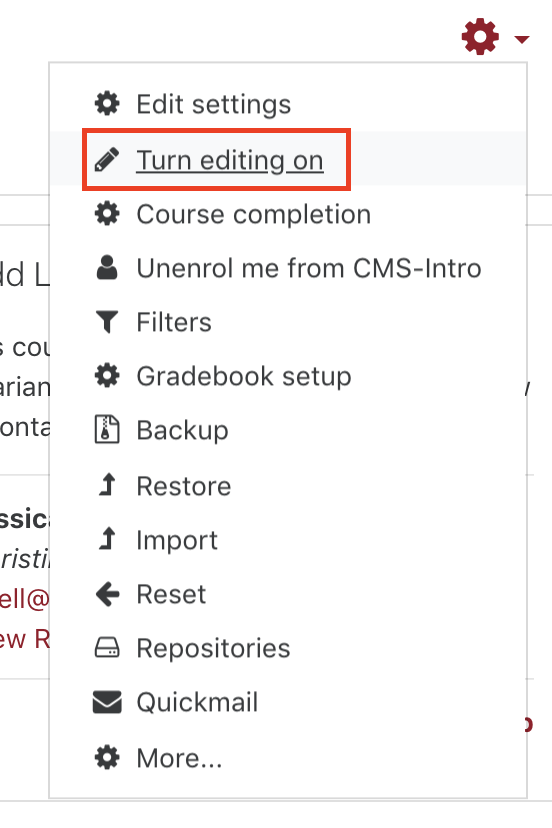 Adding Files
You can add your own file(s) by dragging and dropping them directly into your Lyceum course from your computer.

You will then be asked what you would like to do with the file, select 'Add media to course page' and then 'Upload'. This will then add the file to the desired section in your course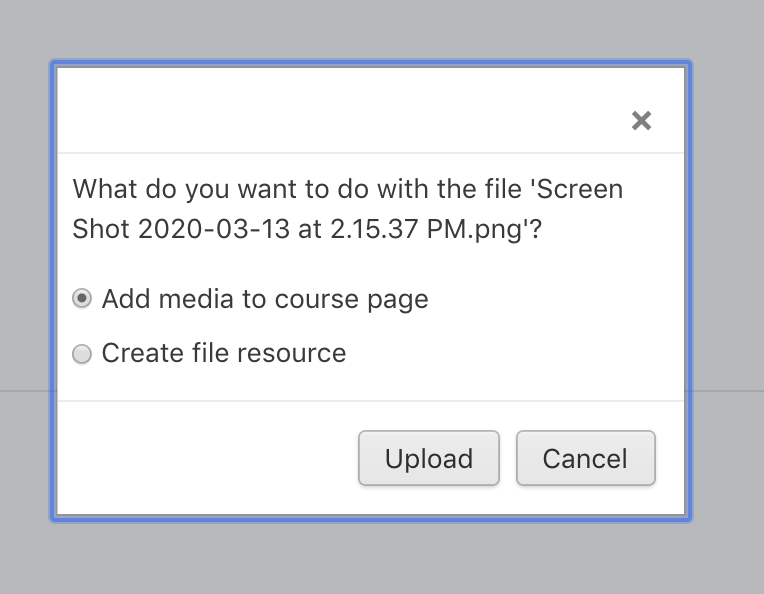 Adding Activities and Resources
You can add different activities and resources using the 'Add an activity or resource' button

You will be presented with a variety of different types of activities and resources that can be added as content in your course
Accessible Document Conversion – The ADC activity converts PDFs, JPEGs and other files into e-books, audio, or braille. It uses accessible formats that are compatible with assistive technology, including screen readers and text-to-speech software, allows the reader to manipulate elements, such as font size and contrast, and can eliminate many barriers to learning
Assignment – The assignment activity enables an instructor to communicate tasks, collect work, and provide grades and feedback. This can be used as something similar to a 'drop box' for collecting online assignments
Chat – The chat activity enables participants to have text-based, real-time discussions. This could be a one-time activity or could be repeated multiple times in the same day or week. Each session is saved and is made available for everyone to view in 'chat session logs'
Database – The database activity enables participants to create, maintain and search a collection of entries (i.e. records)
External Tool – The external tool activity enables students to interact with learning resources and activities on third party web sites that partner with Lyceum. For example, an external tool could provide access to Perusall or InQuizitive
Feedback – The feedback activity enables an instructor to create a custom survey for collecting feedback from participants using a variety of question types including multiple choice, yes/no or text input
Forum – The forum activity enables participants to have asynchronous discussions i.e. discussions that take place over an extended period of time
Glossary – The glossary activity enables participants to create and maintain a list of definitions, like a dictionary, or to collect and organize resources or information
Perusall – The Perusall activity is an online publishing platform for e-textbooks
Quiz – The quiz activity enables an instructor to create quizzes comprising questions of various types, including multiple choice, matching, short-answer and numerical
Workshop – The workshop activity enables the collection, review and peer assessment of students' work
Note that those activities in bold are the most commonly used within Lyceum
**For more detailed information on how each activity and resource could be valuable for your course, follow these links: https://docs.moodle.org/38/en/Activities and https://docs.moodle.org/38/en/Resources
Editing Existing Content
You will now be able to edit sections, items and content (via the 'Edit' button to the left) within your course

If you would like to edit the item or content, follow the tutorial 'Edit Course Items'
If you would like to edit the section, you will be presented with the options to
Edit topic – This option will allow you to edit the name of the section and its summary
Highlight – This option will create a red highlight next to the topic on the page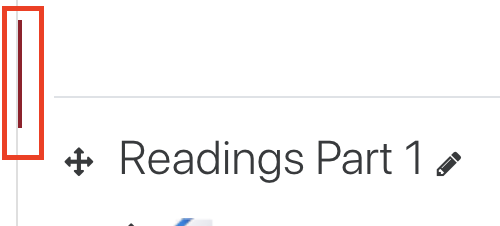 Hide topic – This option will hide the entire section from student view
Delete topic – This option will delete the entire section, including its contents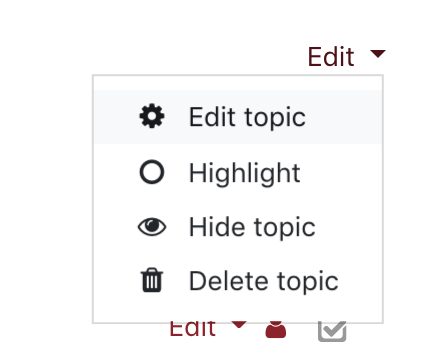 You are also able to decide how many sections you would like in your course. For this example, the 'Topic' section is used. Select the 'Add topics' at the bottom of the page

**For more detailed information on different aspects of the course page, follow this video: https://www.youtube.com/watch?v=ZHE8ygJH1wI&feature=youtu.be
**For more detailed information on how setup your course and course layout, follow this video: https://www.youtube.com/watch?v=6Qt1a4_5r1s&feature=youtu.be