Virtual Reality
Virtual reality, or VR, refers generally to computer-generated simulations of 3D environments that users can experience in an immersive way through specialized hardware, such as head-mounted displays (HMDs) like Google Cardboard or the Oculus Rift.
The CRC group maintains and provides training for a number of tools in support of VR, ranging from 3D modeling and animation software, to game engines like Unity 3D, to 360 cameras and various HMDs.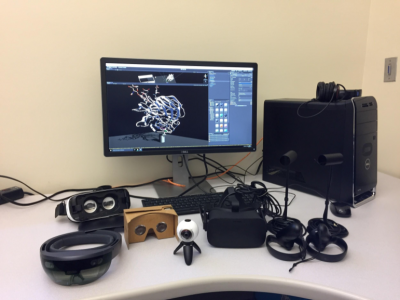 We are also in the process of designing a virtual and mixed reality lab that will provide a dedicated space for experimentation with these technologies in the Imaging and Computing Center, open to all members of the Bates community.
For questions or requests, please contact Cori Hoover.
---
Support staff
Cori Hoover
Coram 103B
207-786-6387
choover2@bates.edu