A Quick Guide to Perusall
Perusall is an online publishing platform for e-textbooks that allows instructors to create collaborative reading activities and group annotations via e-textbooks. Students are able to annotate textbook passages and assignments in a meaningful way. Perusall can act as a central landing platform for those who would like to segment texts from multiple textbooks, PDF files, and articles.
Perusall can be added to your Lyceum course by the External Tool feature or by Adding the Perusall Activity.
External Tool
Once you have added the External Tool, select 'Perusall' from the 'Preconfigured tool' drop-down field. Give the item a name, and then select 'Save and return to course.'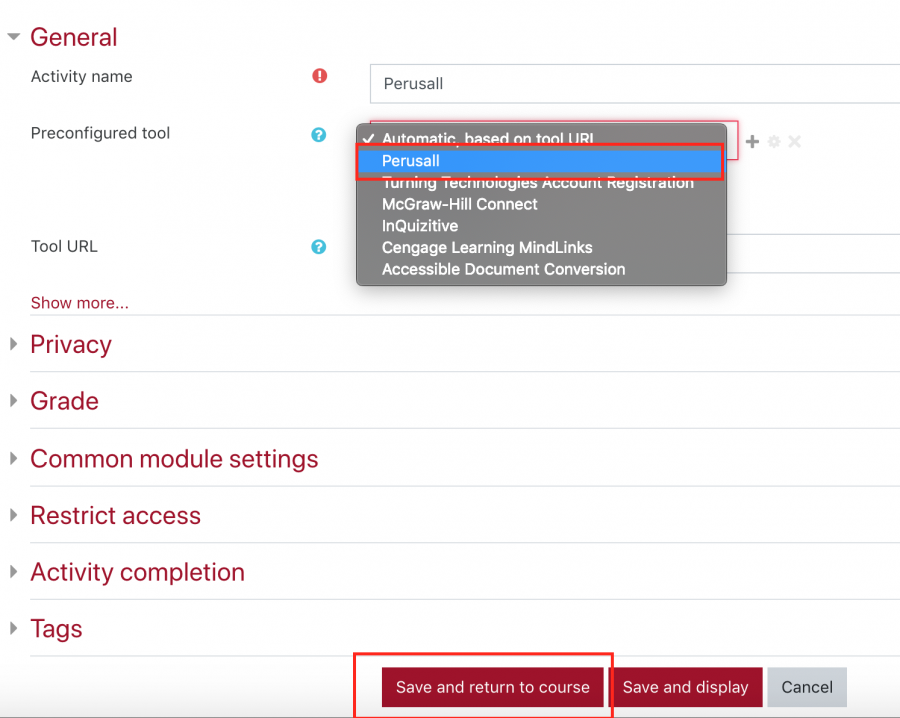 Adding the Perusall Activity
Alternatively, Perusall is also available to be added as an activity. Once you have clicked "Add an activity or resource," select the 'Perusall' activity and then 'Add.'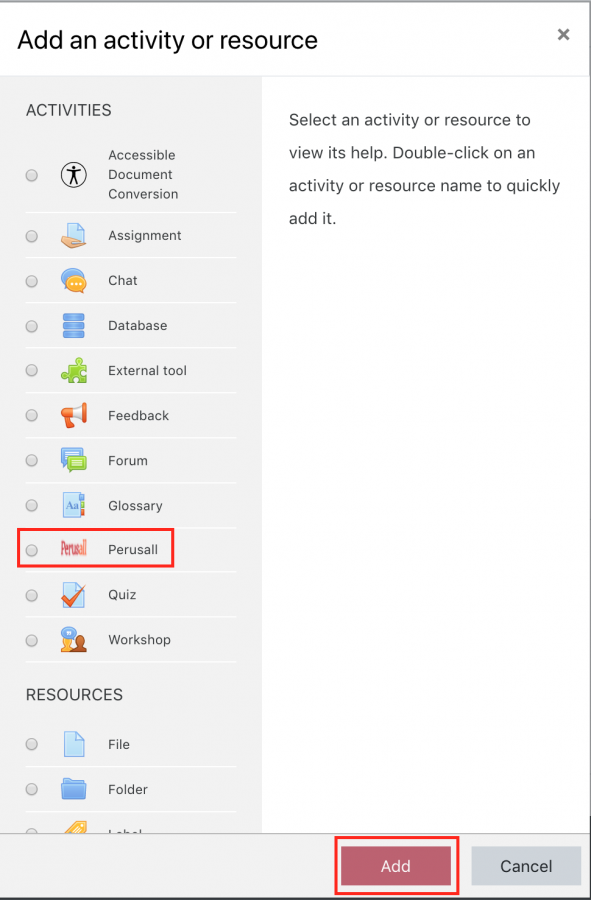 Logging into Perusall Faculty
Select the Perusall link once you have added it to your course page.

This will direct you to the Perusall privacy policy interface in another tab of your browser. Select 'OK' at the bottom of the page.

You will then be directed to your Perusall site, beginning with a tour around the dashboard. We highly recommend going through every step of each tour Perusall provides, as they contain all of the features you may be looking to use.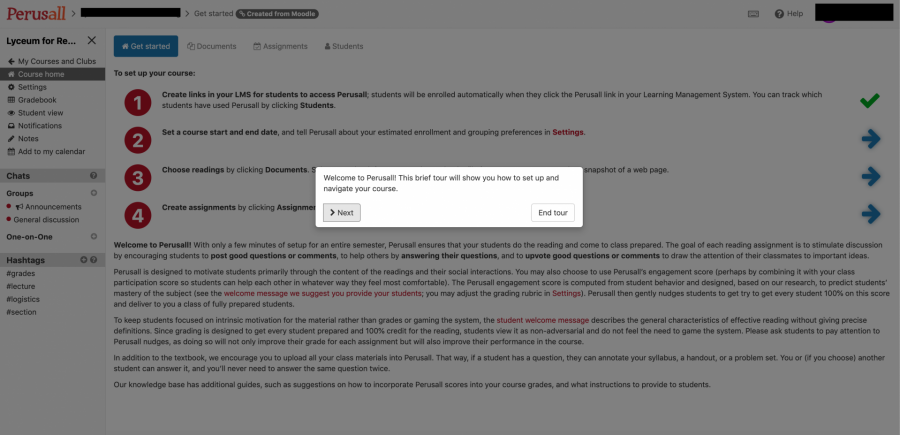 Once you complete the dashboard tour, you will see a 'Get Started' page.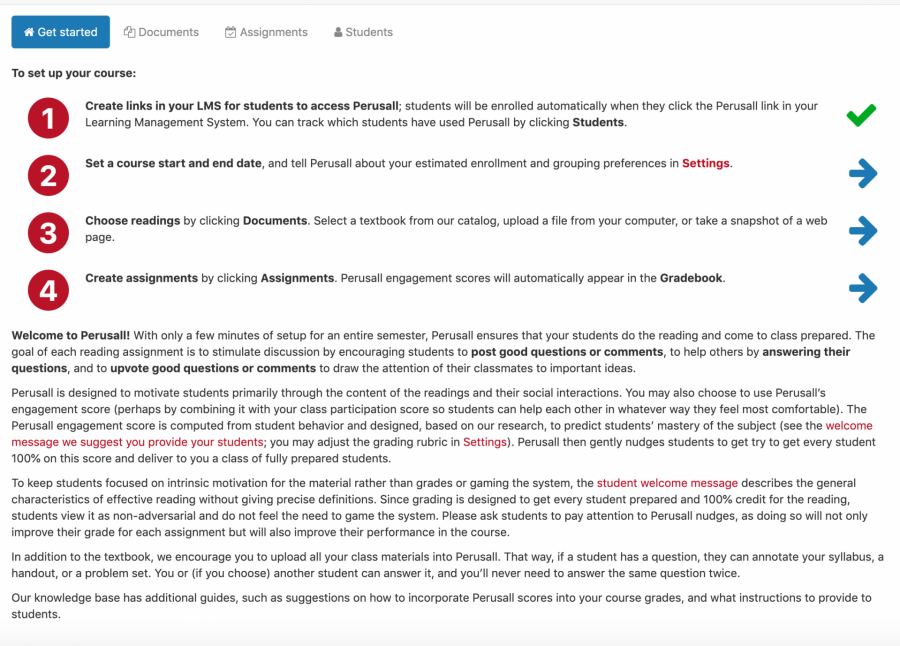 This will show you how to edit course settings within Perusall (not within Lyceum), such as setting a course start and end date.

It will also show you how to add textbooks, webpages, PDFs, articles, etc. to your course in the 'Documents' tab.

OR

Lastly, it will show you how to create assignments with different readings using the 'Assignments' tab.

OR

You can view your enrolled students within the 'Students' tab.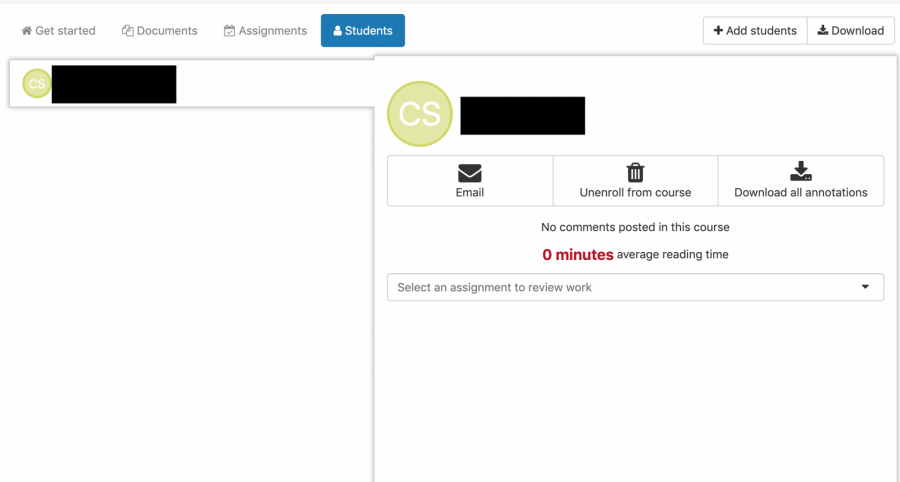 *Note that when students select the Perusall link on your Lyceum course page, they are automatically added and enrolled into your Perusall course – they do not need to sign up separately. See separate help sheet on how students log into Perusall via Lyceum
**For more detailed information on Perusall and its features, follow these help sheets and FAQs provided by Perusall Support: