Employee Assistance Program
Call Aetna Resources for Living EAP at 888.238.6232 or go to www.resourcesforliving.com and enter your User ID: 4bates and Password: bwell
Click here for a list of COVID-19 related resources.
Online Information, Tools and Services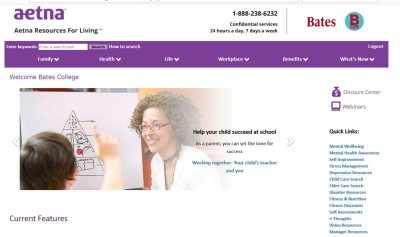 Aetna Resources for Living is your one stop for expert information to assist you with the issues that matter to you, from personal or family concerns to legal and financial concerns.
You can:
-Review in-depth HelpSheets on topics you select
-Get answers to specific questions
-Search for services and referrals
-Use helpful planning tools
Confidential Counseling on Personal Issues
Your Employee Assistance Program (EAP) is a confidential counseling service to help address the personal issues you are facing. This service, staffed by qualified mental health professionals, is available by calling 1-888-238-6232 toll-free 24 hours a day, seven days a week. A counselor is available to listen to your concerns and refer you to a local provider for in person counseling or to resources in your community.
Click here for more information on the Employee Assistance Program.