College Key Newsletter — Fall 2017
Contents
---
President's Report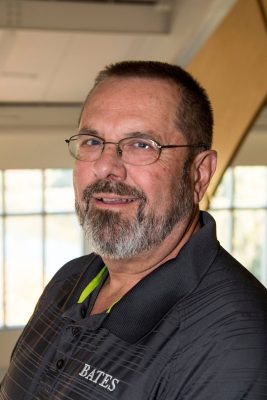 It was a productive year for the College Key. We've had significant transition in the leadership team and a solid increase in the financial health of our organization.
Thank you to all of you who sent in dues and contributions. Please note that we now accept payments via Paypal, as well as by check. Instructions are listed in the College Key Dues section of this newsletter. We've created a secure online form that you can reach by clicking the "Donate" button on our web page.
Under the capable direction of Carol Spencer '74, the bank balance has more than doubled from $13,000 in May 2015 to $29,000 in June 2017. In addition to increasing our final balance, this healthy income allowed the College Key to support the Winter Coat Fund, the Bates Career Development Center's internship travel fund, the Distinguished Alumni in Residence Program, and the challenge match for the Senior Gift. We were also able to increase the principal of the Mabel Eaton Scholarship Fund. The details of our financial support of these programs can be seen in the financial report that follows this article.
The DAIR program continued this year as we welcomed Susan Dumais '75, a distinguished scientist at Microsoft, to campus. She met with faculty and gave a lecture to the campus community, Thinking Outside the (Search) Box.. A complete summary of her career and visit was included in the Spring 2017 newsletter.
At the annual meeting in June, we honored Thomas Tracy, retiring Phillips Professor of Religious Studies, with our 2017 Distinguished Service Award. College Key Vice President Karen Finocchio Lubeck '92 presented the award for his 41 years of outstanding service to Bates.
The Executive Committee has undergone some recent changes. At the annual meeting, Flora Chan '11 was elected as recording secretary to replace Courtney Fleisher '94, who had completed her five-year term of outstanding service. The Executive Committee appointed Karen Finocchio Lubeck '92 to fill the position of vice president last September, and the membership formalized this appointment at the annual meeting. While we will miss Courtney's dedicated service, we welcome the energy and enthusiasm that Karen and Flora have already brought to their new positions.
In addition, Meredith LaChapelle in the Office of Alumni & Family Engagement will join our ranks as the corresponding secretary and staff liaison.
Lastly, the College Key now has a presence on social media. Karen Finocchio Lubeck will be working diligently to get us up and running on Facebook and LinkedIn. Please check out our pages and don't hesitate to connect with Karen and offer suggestions for further improvement to those platforms.
We on the College Key Executive Committee are looking forward to another year of service to the college with renewed enthusiasm. Please don't hesitate to connect with any of us with your ideas so that we may identify areas of need and ways we can improve as an organization.
Go Bobcats!
Jeff Sturgis '69, P'93, President
Distinguished Service Award: Professor Thomas F. Tracy
Phillips Professor of Religious Studies Tom Tracy has taught students at Bates College for the last 41 years. It is not an understatement to say that Tom has touched the lives — and minds — of thousands of Bates students. While at Bates, Tom's research has focused on issues in philosophy of religion and theology, and on topics in applied ethics, particularly medical ethics and the morality of warfare. Professor Tracy's published work has dealt with philosophical questions raised by the classical conception of God in Western religions. He has written on the problem of evil, on the concept of God as an agent who acts in the events of history, and on the relation between these classical issues in philosophical theology and contemporary developments in the natural sciences.
The College Key is proud to award the 2017 Distinguished Service Award to Professor Tracy for his four-plus decades of committed service, his guidance of countless students, and collegiality with his peers at Bates
Student Induction Ceremony
The Key Committee on Undergraduate Members, which includes Bates faculty and staff, selects student members each year. The students were nominated by members of the college faculty and staff based on their academic achievement, leadership, and service to the college and community. Learn more about each student inductee by clicking on the names below.

Matthew D. Baker of the Class of 2017 wrote a rhetoric thesis titled, "An Eloquent Discourse: Obama's Farewell Address." He served as senior class co-president; president of Mays' Men, a support group for men of color at Bates; a Chase Hall coordinator; and a member of the senior gift executive committee. Most recently, he co-organized the campus Bates + Who? movement. A highly talented vocalist, Matthew has been a member of the Bates College Manic Optimists a cappella group and was a semifinalist on Sing That Thing, the WGBH television series that showcases the best amateur choirs in Greater Boston and beyond. Off-campus, Matthew has worked with the Maine Immigration Resource center to launch a campaign to aid in the integration of the area's Somali immigrants. He also worked in digital marketing with Rinck Advertising in Lewiston, bridging the gap between native and new Mainers.


Abigail L. Bierman of the Bates Class of 2017 cannot be with us tonight as she is competing with the Bates women's rowing team at the NCAA Division III Championships in Mercer Lake, N.J. Abigail is an interdisciplinary studies and music double major. Her theses explored how Carolina Wrens learn their song and a composition for string quartet, piano, flute, clarinet, French horn, and trumpet. A Dean's List student, she graduates with membership in Sigma Xi, the international honor society of research scientists and engineers. A varsity coxswain and co-captain for the Bates women's rowing team, she was named to the National Invitational Rowing Championships All-Academic Team in 2015–16. She has been a member of the Residence Life Staff, a teaching assistant for Music Theory I, and a member of the Bates College Orchestra, among other student committees and organizations. She also completed an internship in wildlife rehabilitation in Naples, Florida.


Olivier S. Brillant, Class of 2017, wrote a thesis about the Burakumin, a racial minority at the bottom of the Japanese social order that has historically been the victim of severe discrimination and ostracism. A Dean's List student, Olivier was named Second Team All-American for Bates Club Water Polo, was an Orientation Week and AESOP trip leader, co-directed the 2014–15 SANKOFA production, and started the Hip-Hop Club/physical education class "2.B.E.A.T.S" along with some other classmates and friends. After graduation, Olivier plans on moving to Los Angeles, with the goal of teaching Japanese.


Audrey H. Burns, Class of 2017, is a double major in theater and rhetoric. Her honors thesis in theater consisted of acting the character of Helena in a A Midsummer Night's Dream, and her rhetoric thesis explored the nature of the Hollywood/Bollywood crossover film genre as evidenced in the film Lagaan: Once Upon a Time in India. She has served as board member, publicity manager, actor, and music director for the Robinson Players and received the Dale Hatch Class of 1966 Award, given annually to the graduating senior who has demonstrated outstanding leadership and service for four years in the Robinson Players. She has served as music director for the Merimanders since 2015 and was an AESOP trip leader in 2015.


Spencer S. Burt of the Class of 2017 wrote a psychology thesis examining the effects of cognitive reappraisal, an emotion regulation strategy, on levels of test anxiety and exam performance. A Dean's List student, he was a four-year member of the Bates men's varsity squash team and served as a tri-captain his junior year and the team's sole captain his senior year. He also spent many hours volunteering at Geiger Elementary School and the Lewiston-Auburn YWCA during his sophomore and junior years. Next fall, Spencer plans to attend Portland State University in Portland, Oregon, finishing his pre-med requirements.


Charlotte B. Cabot of the Class of 2017 majored in psychology and researched the efficacy of a specific workplace wellness mind-body program, led by Dr. Anne Brown of the Bates Class of 1988. Charlotte examined the program's impact on satisfaction through the three paths to happiness: the meaningful life, the good life, and the pleasant life. A two-year captain of the Bates women's varsity squash team and a Dean's List student, Charlotte received NESCAC All-Academic Honors and was named a Women's College Squash Association Scholar-Athlete. She served the Bates Department of Psychology as a research assistant and a teaching assistant in statistics. After graduation she plans to travel before beginning work in the fall.


Declan J. Chu is a member of the Class of 2017. For his thesis in politics, he studied the usage patterns of the Antiquities Act of 1906 for the last 110 years to theorize the future of national monuments in the United States. Declan is a Dean's List student whose extracurriculars include mock trial, choir, and the Robinson Players. He has served as a resident coordinator, president of the Bates Crosstones, and Funk Band organizer. After graduation, he will work as assistant canvass director for the Fund for the Public Interest in Boston.


Jason S. DeFelice of the Class of 2017 majored in neuroscience and for his thesis researched associations among reward responsiveness, basal dopamine levels and social hedonic capacity in healthy adults. A Dana Scholar and Dean's List student at Bates, Jason received the Harward Center Award for Outstanding Community Volunteerism and Student Leadership. He also has been a member of Bates Emergency Medical Services, Outfront, SPARQ!, ClubMed, Active Minds, and a tutor in the Academic Resource Commons. In his four years as a Bonner Leader at Bates, he worked mostly with the Boys and Girls Club of Auburn-Lewiston as well as Outright L/A, which works to create safe and affirming environments for young people who are lesbian, gay, bisexual, transgender, and/or questioning. After graduation, Jason will work as a biomedical research assistant at Fenway Community Health in Boston and continue to study for the MCAT, in hopes of attending medical school in the next few years.


Madison E. Ekey, Class of 2017, is a neuroscience student who conducted her senior capstone project on gene co-expression patterns of cocaine addiction in the adult mouse brain reward pathway, suggesting potential genetic targets for addiction treatment. A former member of the Nordic ski team and volunteer with St. Mary's Nutrition Center, Madison developed and implemented Bates Sex Week, an annual, school-wide program of the Bates Public Health Initiative, which she has implemented since 2015. She is also an active member of the Public Health Initiative leadership team, the Bates Outing Club, and the programming sub-committee for Prevention Action Response Team (or PART). She has served as an AESOP trip leader for the last three years.


Jeremy L. Glover of the Class of 2017 wrote an English thesis in which he analyzed the lives and work of several medieval women writers, most prominently Margaret Paston and Margery Kempe. A Dean's List student, Jeremy received a C3 Undergraduate Research Fellowship, which funded his summer research at Columbia University, and a Hoffman Summer Research Support Grant, which funded his travel to Leeds, England, for the 2016 International Medieval Congress. He also completed a Purposeful Work Internship at the Lee Road Branch of the Cleveland Heights—University Heights Library System in Cleveland Heights, Ohio. At Bates, Jeremy has been an OIE Fellow, a writing tutor, Multifaith Fellow, student manager of the Writing Center, and a research assistant for the Department of English. After graduation, he will participate in the week-long Rutgers English Diversity Institute and a month-long fellowship with the Institute for the Recruitment of Teachers. He then plans to take a gap year before starting a Ph.D. program in English, with the goal of becoming a professor of English.


Sadie T. James, Class of 2017, is a psychology and women and gender studies double major. Her psychology thesis explored student perceptions of the reporting and support services for sexual misconduct at Bates, and her women and gender studies thesis explored the effects of manipulating gender and sexuality identities of a stalking target on student's ability to classify stalking scenarios as such. She has been a member of the Nordic skiing and outdoor track and field teams, active in Residence Life and Admission, and has volunteered in local public school classrooms. Sadie received a 2015 Purposeful Work Internship Program grant, the 2016 Harward Center Civic Summer Fellowship, the Richard V. Wagner Prize in Psychology, and a Fulbright U.S. Student Award, through which she will be working at a foreign language school in southern Bulgaria, teaching speaking and writing skills to 8th–12th grade students for the 2017–18 academic year.


Andrew D. Lachance of the Class of 2017 is a chemistry major whose accolades include receiving the Bates College Chemistry Student Excellence and Achievement at the College Level Award, as well as membership in Sigma Xi, the international honor society of research scientists and engineers, and Phi Beta Kappa. Over the last four years, Andrew has been involved in Bates EMS, Residence Life, and the How Everything Works science-enrichment program at Hillview Head Start in Lewiston. His chemistry thesis examined the respiratory maturation of neonatal rats raised in high oxygen concentrations that were then moved back to normal oxygen concentrations, in an effort to understand breathing of premature infants and tailoring safe treatments for those with underdeveloped respiratory systems. After graduation, Andrew will be conducting molecular cardiovascular research at the National Institute on Aging in Baltimore on an NIH Post-baccalaureate Intramural Research Training Award.


Madeline N. McLean of the Class of 2017 double majored in biochemistry and music. Her biochemistry thesis examined the effects of oxidative stress and ear development in zebrafish embryos. Her honors music thesis focused on how genre affects a performer's interpretation of a song and culminated in a senior concert of performed heartbroken love songs. Maddie graduates with membership in Sigma Xi, the international honor society of research scientists and engineers. An accomplished vocalist, she has performed with the Bates College Crosstones since her first year at Bates and directed the group for the past three years. Maddie also has been a member of faculty-led ensembles such as College Choir.


Deshun K. Peoples of the Class of 2017 majored in both rhetoric and art and visual culture at Bates. His rhetoric thesis, titled "The Black [Queer] Ancestor: Survival Strategies in the Black Queer Community," focuses on a documentary that chronicles the life and struggles of a 100-year-old Black lesbian woman, as well as the impact that her supportive mothering of young Black queer people had on the community at large. For art and visual culture with a focus on studio art, Deshun presented a thesis exhibition titled "Primary Colors: Sugar High," featuring bottle-forms he created that were inspired by Chinese pottery and informed by his study of porcelain production in China, for which he received a Phillips Student Fellowship Grant. A Dean's List student, Deshun was president of Amandla: Black Student Union, an organizer for Concerned Students of Color at Bates, a SPARQ! Peer Mentor to LGBTQ+ students, a Dinner Table facilitator, and a diversity outreach consultant for Latinos Unidos at Bates. After he spends a year in China on a Fulbright Art Research Grant, he will begin work on a master of fine arts in ceramics at The Pennsylvania State University.


Matthew F. Phillips, Class of 2017, is a Dean's List student and recipient of the Robert S. Moyer Award for the Prevention of Domestic Violence. He received a Harward Summer Civic Fellowship, through which he interned at College for ME, a local nonprofit, and has volunteered for Safe Voices' local domestic violence hotline, for the last year and a half. He also serves as co-chair of the Senior Gift Committee and primary residence supervisor of Chu Hall. This fall, he will begin to pursue his J.D. at Duke Law School. Matthew's thesis explored recent updates to The Freedom of Information Act and their effects on legislation and national security.


Nevo E. Polonsky of the Class of 2017 wrote a chemistry thesis on the process of creating biofuel from lignocellulosic plant matter, which is frequently thrown away. A Dean's List student, he received the Jessie Withrow '02 Memorial Award for Leadership, which recognizes students who strive to increase the awareness of alcohol abuse and provide creative chem-free alternatives for the Bates community. He has held several positions in the Office of Residence Life and Health Education, including junior advisor, a summer residence coordinator, and team leader. He's been a member of the Bates Men's Water Polo Team and founding president of the Bates Video Game Club. After graduation, he plans to pursue careers in higher education residence life or teaching math and science.


Noel L. Potter of the Class of 2017 wrote a geology thesis on sediment deposition in an Arctic lake on the Norwegian archipelago of Svalbard, and, in particular, sediment deposition associated with the late summer and fall rainstorms that are becoming more common as the Arctic's climate warms. Noel received the college's Stanton Award for Environmental Stewardship and a Hoffman Research Support Grant, and he graduates with membership in Sigma Xi, the international honor society of research scientists and engineers. At Bates, he served as captain of the Rugby Football Club; equipment room director, vice president, and president of the Bates Outing Club, and co-president of the Environmental Coalition. Immediately following graduation, he will spend the summer working as a sea kayak guide in Portland, Maine. In the fall, he will begin work on a master's in glacial geology at the University of Maine, studying climate change during the end of the last ice age in New Zealand and the Southern Hemisphere at large.


Audrey H. Puleio, Class of 2017, is a member of the Phi Beta Kappa Society, a Dean's List student, and has served as AESOP head coordinator, co-president of the Bates Yoga Kula, a Multifaith Fellow, Bates Outing Club director of hikes and trips, and leader of the Dharma Society. A double major in environmental sciences and religious studies, Audrey's thesis focused on modern attitudes toward environmental stewardship. After graduation, she will lead summer trips in Iceland through Overland and plans to return to Maine in the fall to work with the Auburn Water District.


Phathutshedzo C. Rambau of the Class of 2017 wrote a chemistry thesis on the presence of residual pesticides in the wax and honey of Maine bees. A Dean's List student and chemistry teaching assistant, he was a master sound designer for the Bates theater department and received the Kennedy Center American College Theatre Festival award for Outstanding Sound Design. As president of the college's Africana Club, he organized the first-ever Africa Business Conference, but he says his proudest moment at Bates was serving as master of ceremonies for the 2017 Bobcat Ventures Competition, which encourages students interested in entrepreneurship to pitch their startup idea with competition prizes up to $15,000. After graduation, he will be joining Barclays Capital in New York City as an investment banking analyst.


Azure J. Reid-Russell of the Bates Class of 2017, is a psychology major, Dean's List Student, and member of Phi Beta Kappa, as well as secretary of The Robinson Players and a residence coordinator. Azure's thesis centered on potential sources of interpersonal dysfunction associated with Borderline Personality Disorder. After graduation, she will be a research coordinator in the Stress and Development lab at the University of Washington in Seattle, studying the influence of childhood stress and trauma on brain development and the development of psychopathology.


Adam J. Rintell, Class of 2017, is a politics major who, for his senior thesis, conducted probit regression analysis to test the theory that the white working class has voted increasingly Republican in aggregate since the 1980s. Adam is a Varsity Rowing Scholar Athlete and a Dean's List student, who has worked as manager at The Ronj coffee house, volunteer coordinator at Maine Immigrant and Refugee Services, and an intern at Lewiston District Court. After graduation, he will be working at Intrexon Corporation in San Francisco.


Fatima N. Sacko of the Class of 2017 majored in women and gender studies at Bates. For her thesis she chose to undertake a historical and rhetorical analysis of the "Black is Beautiful" political slogan and movement that emerged out of the Civil Rights and Black Power movements. Her research focused on two visual texts, Don Cornelius's "Soul Train" and Beyoncé Knowles' "Carter's Lemonade." She is the recipient of a Barlow Off-Campus Study Abroad Scholarship, a Purposeful Work Internship, the Geoffrey Suess Law Traveling Award, and a Hope Reichbach Fund Fellowship. At Bates, she has served as a residence coordinator, president of the Women of Color club, a career development fellow, and a volunteer for the OIE's Bobcat First Program, which supports first-generation-to-college students at Bates. She has been a member of Amandla!, Sankofa, Africana Club, and the Concerned Students of Color. Fatima has also served on the Campus Culture Working Group and was a class representative to Bates Student Government. After graduation, she will begin a two-year fellowship with Children's Corps, an organization that trains young professionals to work in New York City's foster care and social welfare programs.


Andrew H. Segal, Class of 2017, is a religious studies major with a double minor in philosophy and history. A Dana Scholar, four-year member of the Bates Football team, and a tour guide for the Office of Admission, Andrew will be pursuing a master's in theological studies at the Harvard Divinity School. His thesis, "Power to the People: Black Power & The Limitations of a Rights Based-Discourse in the Black Liberation Struggle," explores the racial hierarchy built into the foundation of the American Republic in the context of Colin Kaepernick's black power activism and the concept of modernity functioning as a racial project. At Harvard Divinity School, he hopes to build upon his Bates education in pursuing studies of radically progressive politics, specifically in the areas of black power and gender equality.


Kevin M. Tejada of the Bates Class of 2017 double-majored in history and Spanish. For his history thesis Kevin researched the transformation of the Chueca district in Madrid, Spain, looking specifically at the factors that transformed the barrio from a drug- and crime-infested area to a popular neighborhood for Madrid's gay community. Kevin's Spanish thesis was about the representation of lesbian and transgender women in Mexican telenovelas, specifically focusing on "Las Aparicio". He served as president of the college's Latinos Unidos Club, a representative on Student Government, an Office of Intercultural Education Fellow, and a peer tutor in the college's new Academic Resource Commons. He also has been the perennial winning designer at the college's annual Trashion Show. For the past several years, his designs made of trash and recycled materials have been named the "Most Glamorous," "Most Creative," "Most Innovative," and "Best Overall."


Jessica L. Vocaturo of the Class of 2017 cannot be with us this evening, but she has a very good excuse. She is competing with the Bates women's rowing team at the NCAA Division III Championships in Mercer Lake, N.J. Jessica majored in politics and for her senior thesis researched American print media's characterizations of waterboarding as an interrogation technique during the pre- and post-9/11 eras. She has served as a Residence Coordinator in Cheney House, a Junior Advisor in Page Hall, Nutrition Coordinator for Commons Healthy Eating and Wellness Society, a member of the Senior Gift Committee, and a Big Sister at Oak Hill Middle School in Sabattus. She also completed internships in the Office of Senator Susan Collins and with the Androscoggin Land Trust. After graduating, Jessica will begin a career as presales engineer for the software company Laserfiche in Washington, D.C.


Cormac G. Walsh of the Class of 2017 majored in biological chemistry and for his thesis researched liver toxicity of anabolic steroids that are legally sold over the counter as nutritional supplements. A Dean's List student, Cormac received the college's Excellence in Academic Achievement Award in Biochemistry, and he graduates with membership in Sigma Xi, the international honor society of research scientists and engineers. At Bates, he served as a B-Well Wellness Intern, an at-large representative to Student Government, a junior advisor, and a thrower on the track & field team. A competitive power lifter since the age of 16, Cormac is also the founding president of the Bates College Weightlifting Club. In spring 2018, he will enter the Doctor of Physical Therapy program at Northeastern University.

Alumni Inductions

The following alumni members were welcomed to the College Key at our 2015 and 2016 annual meetings. These alumni were nominated by their classmates, friends, and colleagues in recognition of their continued support of the college. All are active volunteers who serve in many capacities on behalf of Bates. Please congratulate our new members!
Martha Wonson Brandt '82
Robert A. Brooks Jr. '02
Jordan A. Conwell '12
Heidi A. Duncanson '82
Kathryn Rice Duvall '05
Leah C. Elsmore '12
Carol Renaud Gaffney '67
Melissa A. Geissler '05
Cary E. Gemmer '07
William J. Guidera '92
Michael F. Hogan '85
Aya S. Murata '92
Leena A. Nasser '12
Fisher Qua '06
Matthew P. Redman '01
Donna Preli Sonberg '82, P'13
Drew G. Weymouth '02
Yoon Loong Wong '12
In Memoriam

The names of those College Key members who passed away or those whose passing we learned about during 2016–17.
Susan Martin Ames '52, P'82
Virginia Yeomans Ansheles '40
Thomas M. Brown '63, P'89, P'94, GP'21
Charles E. Clark '51, GP'00
Ruth Ulrich Coffin '42, GP'07
Elisabeth A. Dagdigian '51
Richard F. Daly '48, P'79
Joan Wells Dorman '40, P'68, P'70
Ruth Stillman Fernandez '46, GP'03
Trenor F. Goodell Jr. '39
Michael E. Gosselin '70
Deirdre Kapes Hiebert '49, GP'05
Ralph S. Hoyt '51
William B. Huckabee '58
William B. Lever '41
Mario B. LoMonaco '54
Parker G. Marden '61
Richard A. Melville '54
Marjorie Harvey Moore '47
Mary Berryment Needham '52, P'76
Margaret Taylor Nichols
David D. Nickerson '42, P'67
Robert A. Shepherd '69
John C. Stahlberger '43
Gracie Hall Stone '46
Miriam Hamm Swanson '57
Janice Prince Washburn '47
William A. Young III '64, P'91
Winter Coat Fund
"If Key members know others who knit, get the needles clacking!" — Carol Spencer
Remember those chilly winter days trekking across the quad? Imagine having no hat, mittens, or scarf to break the icy air. Well, Bates College Key knitters, here is an opportunity for you to help.
During 2017's annual meeting of the College Key, Sarah Daniels '77 listened with interest to the thank you to Key members for the Coats program. She thought how profoundly those students would feel a welcomed, cared-for member of the larger Bates community if they received hand-made winter items from Bates alumni. Sarah noted, "I really like the idea of building a community of knitters in support of this work. Perhaps mittens would be too hard for some, but they would relish knitting a scarf or a hat."
If interested in contributing to this fabulous new initiative, send along completed items to: Marianne Cowan, associate director of program design, Purposeful Work, Bates College, 2 Andrews Road, Lewiston, ME 04240.
In our spring newsletter we highlighted a few thank-you letters from students. We thought it would be nice to share them all with you in this issue.
"I would like to thank you for your generosity and being able to help me and other Bates students be prepared for the winter. I'm from San Diego, CA, so I had never experienced temperatures below 50°F. The coat and gloves that I received have definitely kept me warm and protected, especially in the snow storms. I am truly grateful for the winter coat and gloves that I was able to have." — Bates Student '20
"Thank you for your donations for us students that have travelled so far to attend Bates. We greatly appreciate it." — Bates Student '20
"Thank you so much for donating money to support people like me. The items that I received have kept me warm and I'm so grateful!" — Bates Student '20
"I just want to say, thank you. Thank you for your generosity. It takes people with great hearts to help out people in need, so it means so much to me that you're willing to do this for us. Gestures like this are what motivate me to work hard and put effort into what I'm doing to be able to help people out just the way you did with me. God bless you." — Bates Student '20
"Thank you so much for your help in providing me with winter clothes. I have greatly appreciated it, and it has helped me better understand what a Maine winter is. Once again, thank you!" — Bates Student '20
"I had never seen snow before I came to Bates. I experienced a lot of difficulties at first adjusting to a new type of weather. Thus, I am so grateful for your support and generosity. I am dealing with the cold much better with the winter apparel that you have funded. Thank you a lot!" — Bates Student '20
"I really appreciate your donation and what it has done for me. I was very excited to receive my winter apparel and couldn't wait to put it to use. I came to Bates with no gear sustainable enough for Maine winters and the winter apparel was well out of my budget. I cannot thank you enough for providing me with such nice winter gear." — Bates Student '20
"Thank you so much for providing funding for winter apparel. Having a good quality coat and boots has really helped me in getting used to Maine weather. Being provided with winter gear has further convinced me that Bates is a wonderfully supportive community." — Bates Student '20
"Growing up in a tropical country like Bangladesh I was always fascinated about snow. Now that I am here at Bates and experienced my first snow, the winter apparel is keeping me warm as I enjoy these days to their fullest. Thank you for the authentic Bates experience." — Bates Student '20
"Thank you so much! I am really grateful for my winter coat, shoes, and everything really! God bless you!" — Bates Student '20
College Key Treasurer's Report
(click to enlarge)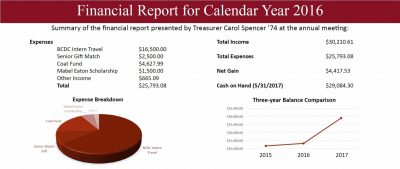 Program Details
We provided the BCDC with $10,000 to assist students' travel to internships and job shadows necessary to attain their post-college goals. At the Annual Meeting, Nancy Gibson from the Bates Career Development Center reported on the use of those funds and thanked the Key for our support of this important program.
We provided matching funds for the Senior Class Gift. The College Key contributed $2,500 — a $25 match for every $100 donation that helped the Class of 2017 raise $12,305 with 75 percent participation.

During the winter, Jeff Sturgis met with the students who received jackets, hats, and gloves from our Coat Fund at a dinner hosted by Josh McIntosh, vice president for student affairs and dean of students. These students, many of whom had never before experienced a Maine winter, expressed their gratitude with thank you notes, included above.
We were able to transfer $1,500 to the Mabel Eaton Scholarship fund, bringing its total to $106,098.28. It is important to keep up annual contributions to this scholarship to offset the rising cost of higher education and provide financial aid to deserving students in need.

College Key Facebook and LinkedIn Updates
Let's Get Social
It's time to connect with your fellow College Key members! We are pleased to have both a private Facebook group and a LinkedIn group.
Through Facebook, we encourage members to share news, photos, stories, and ideas. Our goal is to provide a platform to share updates, exciting initiatives, and other important College Key efforts for the college. We will help share our impactful Key events and meetings so you will feel connected no matter where you are. This group is private, so information will remain within the group, and only College Key members are eligible to join. We encourage members to request to join the group by clicking on the following link: https://www.facebook.com/groups/batescollegekey/
Our Bates College Key LinkedIn group will serve as a more professional platform for networking and sharing interesting work by Key members. Looking to shift careers, break into a new industry, or leverage our tremendous Bates network? This option will help to expand opportunities for fellow Key members to connect with each other as careers grow, shift, and change. We encourage members to join the group by clicking on the following link: https://www.linkedin.com/groups/8601015
If you have any questions or would like more information, please do not hesitate to contact Karen Finocchio Lubeck '92.
Senior Class Bates Fund Gift
Once again, the College Key is providing matching funds for the Senior Gift to encourage Bates seniors to start thinking of ways to give back to their alma mater after graduation. The College Key is providing $2,500 to match gifts of $25 or more made by members of the Class of 2018. The Senior Gift Co-Chairs, Ainsley Jamieson and Pratap Khadka, are excited about this generous match by the College Key and look forward to the year ahead.
Last year, the College Key matched Mount David Society Level gifts for the Class of 2017. Fifteen members of the Class of 2017 met the challenge, 76 percent of the class participated in the Senior Gift. Contributions from the College Key were instrumental in helping the senior class reach its goals.
College Key Dues
Secure and Simple Online Donations
If you are an avid user of a mobile device, pay your bills online, or shop online, then please consider paying your College Key dues online as well. We've created a secure online form that you can reach from the "Donate" button on our web page.
The form takes you straight to PayPal where you'll be prompted to log in. If you have a PayPal account, you'll have to use one of the payment methods in your account or your PayPal balance. If you don't have a PayPal account or don't want one, no problem. PayPal provides a link to pay by debit or credit card without setting up an account.
To pay by check, please fill out the online form, then close the PayPal window without entering any data. Print the email confirming the amount of your donation and include it with your check. Our data will indicate that your donation is not complete. Once we receive your check, we will update your donation record.
If you have any questions about dues or donations, please contact the College Key Treasurer Carol Prochazka Spencer at chaz74@alumni.bates.edu. Your dues and donations allow us to provide important services to Bates students and we thank you!
Executive Committee 2017–18 Officers
President, Jeff Sturgis '69
Vice President, Karen Finocchio Lubeck '92
Recording Secretary, Flora Chan '11
Treasurer, Carol Prochazka Spencer '74
Immediate Past President, Kristin Barber '07
Corresponding Secretary, Meredith LaChapelle, Coordinator, Alumni and Family Engagement
Advisor, Marianne Nolan Cowan '92, Associate Director of Program Design, Purposeful Work