Stoic Week 2016: Oct. 17-23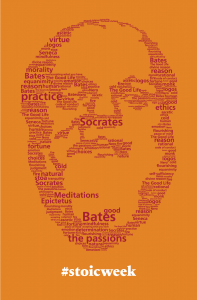 Beginning on Monday, October 17, Bates will participate in Stoic Week 2016, an online, international event dedicated to living like a stoic philosopher for a week.
The theme for this year is stoicism and love. Students, faculty and staff are all invited to participate in the event in a number of ways: by enrolling in the online course, Modern Stoicism, by following the event on Twitter (#StoicWeek), or by subscribing to the event's dedicated blog.
Members of the Bates community can also participate on campus by joining a panel discussion on stoicism, scheduled for Tuesday, October 18, from noon to 1:00 at the Benjamin Mays Center. Kathy Low (Psychology), Susan Stark (Philosophy), Harry Walker (Classical and Medieval Studies), and Kate White (Psychology) will lead an informal discussion of stoicism across intellectual disciplines.
For further information, please contact Michael Hanrahan (mhanraha@bates.edu).
---