Google Groups Lyceum Block
Starting in the fall 2020, course email lists are managed as Google Groups. Your Google Groups course email address is formed by combining the Short Name of your Lyceum course with "@groups.bates.edu" (for example, afam-119-a-202009@groups.bates.edu). The Short Name of each Lyceum course appears as a navigation link on your course's home page:


To help you learn your course email address, we've created a new Lyceum block, which allows you to generate your Google Groups course email address. To add the block from your course home page, turn editing on and choose "Add a block" from the block menu: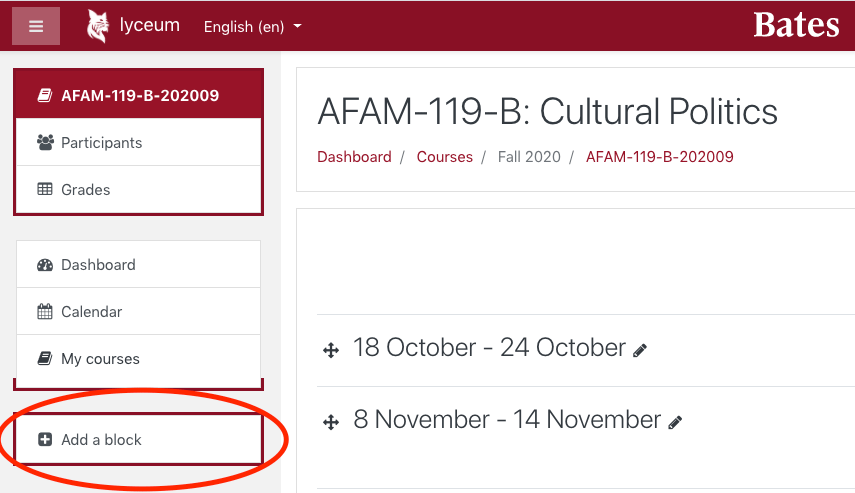 From the list of available blocks, select "Google Group Course Email/URL":

The custom Group block will be added to your course. It allows you to copy the course's email address to your clipboard and also to copy the URL to the archive of your course's email discussion: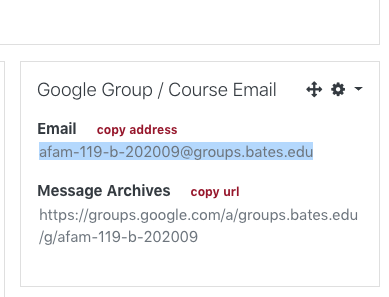 Only users enrolled in your Lyceum course have access to your Google Group Course Email and Message Archive for that course.