2018 Barlow Travel Grant Report
Rebecca Merten '12
Personal Background
I have been teaching in some form since I graduated from Bates in 2012. I first taught in Slovakia through the Fulbright program. I then taught in Texas for five years both in the Rio Grande Valley—in a school mere miles from the US/Mexico border—and at a charter school in East Austin. Both schools served primarily Mexican-American students. In both of these schools, my Spanish language skills (which I honed during my junior year study abroad!) were helpful. My ability to communicate in communities that weren't my own meant that I could be a better teacher for my students. It showed them that I valued their heritage and that their bilingualism was something to be proud of. It showed them that it was ok to make mistakes when learning a new language and that they just needed to go for it.
In 2018, I moved back to southern New England, where I'm originally from. I'm the dean of teaching and learning at Atlantis Charter School in Fall River, Massachusetts. I coach teachers, direct much of our curriculum, and interact with students and parents daily. I love my job, but I struggle to communicate with my students and their families on the same level I did in Texas. The student population is more diverse, with many white students, Portuguese students, Cape Verdean students, and Latinx students.
Our Latinx students predominantly hail from Puerto Rico and the Dominican Republic. Caribbean Spanish is said to be the hardest to understand for non-native speakers, and my first year at this school confirmed that sentiment for me. While I used to be able to communicate with parents and students, I now struggle to. I lose many of the nuances of what students are saying. Parent meetings have ended in frustration because I cannot understand the fast clip of their Spanish and accent. This is a serious problem because we have a growing population of Spanish-speaking students and parents and a small number of staff members who can communicate with them.
Project
I spent two and a half weeks in the Dominican Republic (DR), focused on honing my Spanish, developing an ear for Caribbean Spanish, and learning about Dominican culture. I began in Bayahibe, a small beach town, for a few days.
Here, I sampled Dominican cuisine and was introduced to how things are done in the Dominican Republic. I was immediately struck by how genuinely friendly and helpful everyone was. For example, a taxi driver trying to sell me a fare immediately walked me to the bus station when he realized that's what I was actually looking for. This became a dominant theme for me: people in the Dominican Republic are genuine and kind. It may sound simple, but it reminded me of an amped up, less formalized version of Texan hospitality which I have desperately missed since moving back to New England.
After a few days in Bayahibe, I traveled to the capital, Santo Domingo. After a short bus ride (with great wifi and a less great dubbed version of the Baywatch movie), I met my host mother for the next two weeks, Luz, and her family.
They were more than generous with me during my time there. She began with a detailed overview of where everything to do or eat in the city was, with very explicit directions on how to arrive (which I wouldn't have been able to remember even if they had been in English) and a how-to of the nuances of getting on and off the ride-share van that would be my best bet for getting to school in the morning.
The following morning, I set out on the shared van to the Instituto Intercultural del Caribe. Fifteen minutes and 50 cents later, I arrived at my school, where I would spend the next two weeks taking classes. I spent four hours every day practicing Spanish with my Dominican teachers and fellow foreign students. Our topics ranged from the ever-confusing subjunctive to the complicated Dominican perspective on Haitians.
I spent my afternoons exploring the city both by myself and with my classmates. We went to traditional locations like the Alcazar de Colon and Museo de las Casa Reales, both historical museums focusing on colonization. I also visited the first cathedral in this hemisphere. I learned about the Trujillo reign through the Museo de la Resistencia. I wandered around the Zona Colonial, the Malecon, and other parts of the city.
Santo Domingo is a cosmopolitan city, so I also found myself at a diversity of restaurants ranging from traditional Dominican food to Italian to Mediterranean. I also ate in cafeterias for lunch—trying chicken and beef with different preparations accompanied by a hearty helping of rice. Pastelitos and tostones were other delicious staples. I drank refreshing fruit juices regularly. I found a wonderful Haitian restaurant that I ate at several times.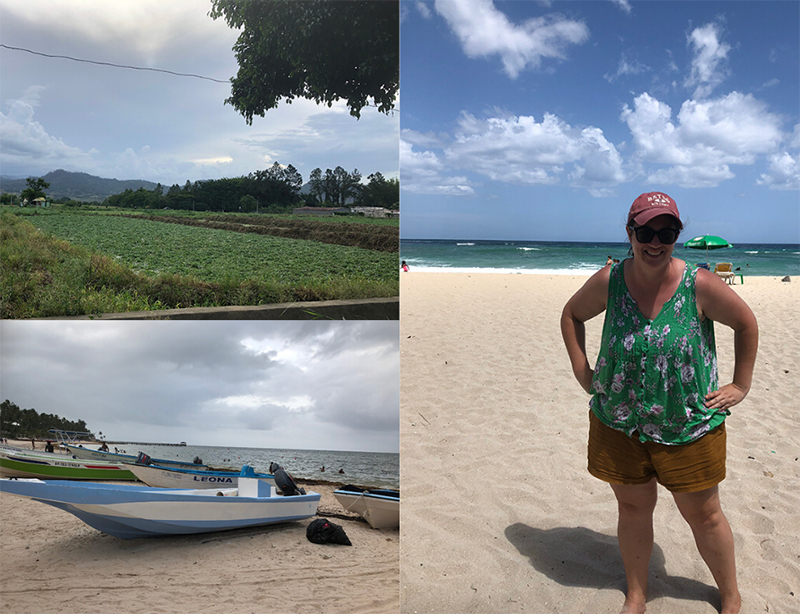 We took a day trip after classes to Juan Dolio, a local beach near Santo Domingo that is packed on the weekend with people escaping the city. I took a weekend trip to Jarabacoa—a small town nestled in the mountains— between the two weeks of classes. The weather was a welcome relief from the stifling humidity of Santo Domingo. I also got to see the pace of life in a small town. I travelled to various waterfalls (one of which was made famous by a cameo in Jurassic Park!) and wandered back through the outskirts of town after one waterfall. There, I ate typical dishes, including mofongo, a plantain dish with your choice of protein and a heavy sauce.
After finishing up my second week of courses, I said my goodbyes and boarded a bus for Punta Cana, in advance of my flight the next day.
Reflection
One of my biggest reflections from my trip had nothing to do with my intended goals, and I would be remiss not to mention it, as it hung like a cloud over the tourism industry—the biggest industry—in the Dominican Republic. In the weeks leading up to my trip, news stories circulated about the dangers in the Dominican Republic. Like any responsible tourist, I did my due diligence. Based on my research, the spike in American tourist deaths in the DR was not a spike at all. An average amount of tourists have died in the Dominican Republic this year when compared to yearly averages. So I went knowing that I would need to take the precautions I always take as a woman traveling alone but tried not to think too much more about it.
However, it did impact my perception of the Dominican Republic. I noticed that I was more on edge for the first few days than I have been in similar travel situations. Even though I had done my research, the stories put out by the media had impacted me on some level. This feeling quickly dissipated as I spent more time in the country and realized the genuine hospitality of the country.
However, while this feeling may have quickly dissipated for me, it did not for the Dominican Republic. My plane ride over was half full. My host mom told me that over half of her reservations for the next two months had been cancelled. The tourism industry in the Dominican Republic, which is the lifeblood of its economy, has taken a significant hit. It's a sad feeling knowing that sensationalist journalism has significantly impacted the economy of a country and Americans' perceptions of the island may be warped for years to come.
I enjoyed the trip immensely. Additionally, my Spanish improved and I feel like I have a better sense of Dominican culture. I am very appreciative of my time in the Dominican Republic and cannot wait to return!
Apply for the Barlow Alumni Travel Grant