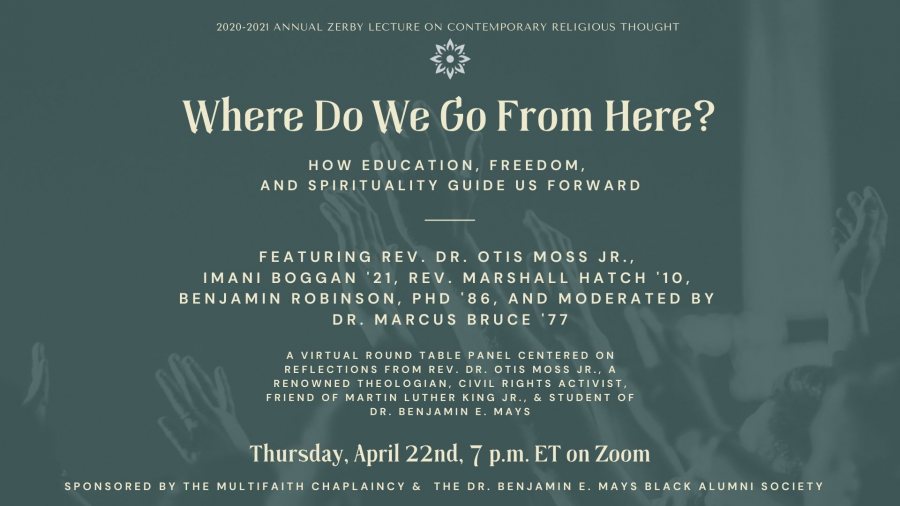 2020-2021 Zerby Lecture: Where Do We Go From Here?
Thursday, April 22, 2021 — 7:00pm

Where Do We Go From Here? A Panel Featuring Rev. Dr. Otis Moss Jr.
A collaboration between the Bates Multifaith Chaplaincy and The Dr. Ben E. Mays Black Alumni Society, this year's lecture, titled "Where Do We Go from Here? How Education, Freedom, and Spirituality Guide Us Forward," will be a round table panel centered on reflections offered by Rev. Dr. Otis Moss Jr., a renowned theologian, civil rights activist, dear friend of Martin Luther King Jr., and student of Dr. Benjamin E. Mays. Round table panelists include Imani Bogan '21, Rev. Marshall Hatch '10, Dr. Benjamin Robinson '86 and will be moderated by Dr. Marcus Bruce, Professor of Religious Studies at Bates.
The Rayborn Lindley Zerby Lectureship on Contemporary Religious Thought was established with a gift to the College by the Campus Association in April of 1965. The series was initiated the following year by the late Dr. Samuel Miller, Dean of Harvard Divinity School.
The lectureship "honors a man who devoted many years to the growth of Bates College as a teacher and as Dean of the Faculty. It is entirely fitting that Bates students should initiate such a tribute to a highly respected teacher and friend."
A native of Avilla, Kansas, Dr. Rayborn L. Zerby received his Bachelor's degree from Eureka College in 1916. He received his Bachelor of Divinity degree in 1927 and his Ph.D. Degree in 1930. As an instructor, he was promoted to Assistant Professor in 1932, Associate Professor in 1935, and Professor of Religion in 1942. He served as Chairman of the Department of Religion and Philosophy from 1930 to 1945. Director of the Chapel from 1945 until his retirement in 1962, he was appointed Dean of the Faculty in 1958.