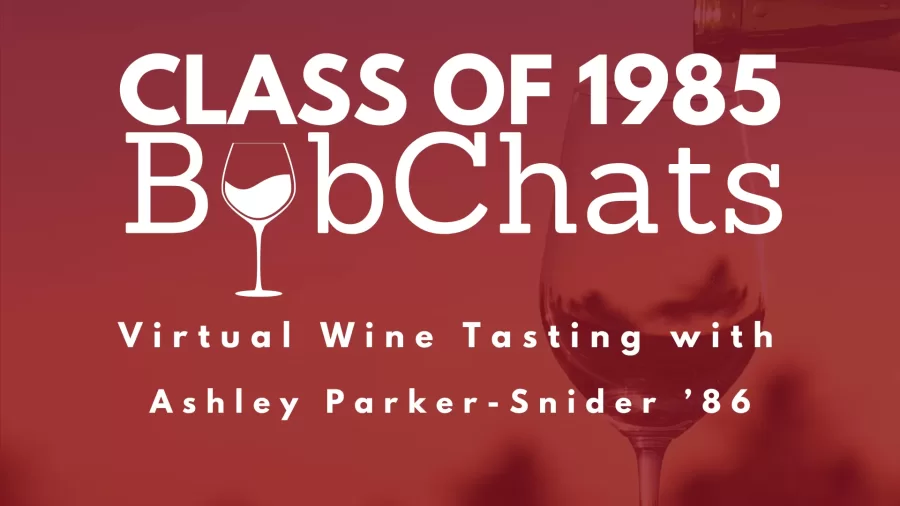 BobChats Wine Tasting with Ashley Parker-Snider '86
Friday, April 1, 2022 — 7:30pm

While we hope our BobChats have expanded your minds, for our next BobChat, we hope you'll expand your palates as Ashley Parker Snider '86, leads us through a tasting of three different wines from her family vineyards, Fess Parker Winery. David Flash will be our host for the evening.
Established in 1989, the Fess Parker Winery has a long history in Santa Barbara Wine Country and is well known for its small-lot, vineyard-designated, and clonal selection Rhône and Burgundian varietals. Outstanding fruit sources, including some of the finest vineyards in the county, coupled with skilled winemaking, led by Blair Fox, form the foundation for the winery's success. Over the last 30 years, Ashley has been involved in all facets of sales and marketing for the Fess Parker Winery & Vineyard.
You're welcome to join us regardless of how many bottles you choose to buy, if any!
ADVANCE WINE PURCHASE
Wine purchases are completely voluntary and can be made at your local liquor store or ordered directly through Fess Parker Vineyards with a 20% discount. To order from the vineyard directly, go to www.fessparker.com and find the "Shop" link under the drop-down directory on the top left of the landing page. Our wine selection is:
1. Fess Parker Winery 2020 Santa Barbara County Chardonnay $19
2. Fess Parker Winery 2018 Parker West Sta. Rita Hills Pinot Noir $55
3. Fess Parker Winery 2018 Rodney's Syrah Santa Barbara County $54
The winery recommends that online purchases are completed by March 18th for delivery by April 1st. The discount code will be valid between February 2 to April 15th, for those who might like to order more after our tasting.
Details for using the discount code:
Discount Code: Bates85 for 20% off
Available for Use: 2/2/22 – 4/15/22
Products: All wine and merch, no exclusions.
This discount may not be combined with any other promotions.