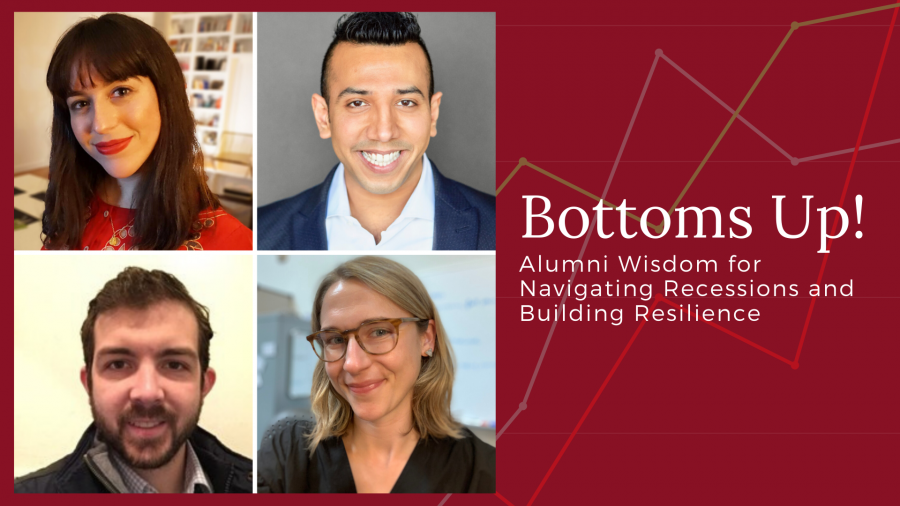 Bottoms Up! Alumni Wisdom for Navigating Recessions and Building Resilience
Wednesday, May 27, 2020 — 8:00pm

Moving from college into the working world is challenging in the best of times. In times of economic uncertainty, like that created by the COVID-19 pandemic, it can feel overwhelming and even paralyzing. Yet Bates grads have weathered many catastrophes, recessions, and tough job markets throughout the years—and have not only survived, but ultimately thrived.
Join us on Wednesday, May 27, at 8PM EDT to hear members of the Class of 2009 share their personal stories of resilience and success during and after the Great Recession. It's an opportunity for graduating seniors, current students, and young alumni to hear perspectives and strategies on navigating difficult economic times—and consider what defines a recession resilience story.
The panel will be moderated by Maya Church, member of the Class of 2020, and include alumni from across industries and professions.
Panelists: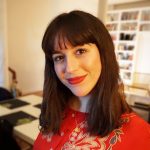 Manuela Odell '09, After graduating from Bates in 2009, Manuela returned to her hometown of NYC and began working with startups, initially as a generalist and eventually finding her groove in business development and partnerships. After getting let go of her job during a company layoff in 2019, she decided to pursue a career change and enrolled in a product design program, graduating in February. Her experience navigating graduation and entering the workforce during the 2009 financial crisis has prepared her for these unprecedented times. She now resides in Bend, OR.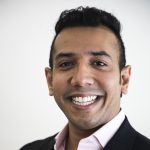 Arsalan Suhail '09, recently completed his MBA from the Tuck School of Business at Dartmouth, where he has had the honor to co-found and lead several high-impact organizations on campus. Before Tuck, Arsalan was a Senior Manager in IBM's strategy consulting practice for nine years where he advised C-suite leadership of Fortune 500 companies and led complex engagements in North America and in 11 countries, including spending a year in Afghanistan building the country's first business incubator and investment facilitation program. In 2017, he was recognized in Consulting Magazine's prestigious "35 under 35" Rising Stars of the Profession for Excellence in Leadership. Outside of academic and professional interests, Arsalan is passionate about mentoring, helping younger alums navigate career options, giving back to the community, and continuing his love for amateur DJ'ing that began at Bates. Arsalan earned his BA in Economics from Bates and is the Co-President of the Class of 2009. He is a Bates College Key inductee and serves on the Bates Alumni Council.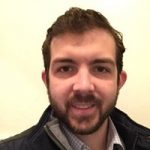 Walter Ricardo (Ricky) Weisskopf '09, currently working as a Product Manager at a Philadelphia e-commerce start up called, Curalate. I have been at Curalate for the last 3.5 year where I started as a Project Manager working on client integrations and then successfully transitioned to the my current role within the Product Team. After Bates, I was a Squash Professional, coaching in Greenwich, Connecticut before working as a Project Manager at HappyFunCorp, a Software Development company.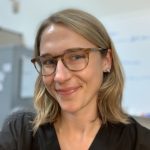 Stephanie Howson '09, is Director of Development for University Initiatives at Seattle University, and her passion is helping people connect with organizations and each other in meaningful ways. Stephanie graduated from Bates in 2009 as a Gender Studies and Religion double major, and in February 2010, with hard work and help from the Bates alumni network, she was offered the job that launched her career in higher education fundraising. Stephanie has her Master's in Journalism from Northwestern University and her MBA from Seattle University, and she lives in West Seattle with her Commons crush.
---
Moderator: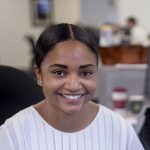 Maya Church '20 was a Gender and Sexuality Studies major and double minor in Education and Dance during her time at Bates. Throughout her four years, Maya worked at the Center for Purposeful Work as well as the Harward Center and Post and Print. She has also spent time abroad in various parts of Brazil and South Africa. While still trying to navigate postgraduate opportunities, Maya plans on having a future career in Public Relations and Communications.
We encourage you to submit your questions in advance through this online form.
*SPECIAL NOTE: Given the technical restrictions on our current platform, there will be a limited number of seats, so we encourage you to RSVP early. We'll make the recording accessible on the Bates YouTube channel soon after the event.
This program is made possible by a partnership between the Bates Center for Purposeful Work, the Bates Office of Alumni Engagement, and the Bates Alumni Council.