Helen A. Papaioanou '49 Distinguished Alumni Service Award
Inaugurated in 1981,The Helen A. Papaioanou '49 Distinguished Alumni Service Award celebrates service to Bates that is truly distinguished in both quantity and quality. Historically known as the Distinguished Alumni Service Award, the 1999 award was renamed the Helen A. Papaioanou Distinguished Alumni Service Award, to honor Helen Papaioanou, M.D., Class of 1949, for her decades of service to Bates and to the Board of Trustees from 1965 to 1999.
---
On June 10, 2017, President A. Clayton Spencer presented the award to Judith A. Marden '66.
As you may know, this award is given in recognition for both quantity and quality of alumni service. Judy, you have more than met the standard. For 55 years and counting — as a student, a loyal college employee, and a tireless volunteer — you have done everything Bates and the state of Maine have asked of you.
In the employ of the college, Judy was a highly skilled utility player, serving at various times as a development researcher, acting director of development, business manager, liaison officer for college functions — a role in which she administered large Bates events like Commencement and Parents and Family Weekend — and personnel director, the equivalent of today's head of human resources.
But she saved her favorite position at Bates for last — director of the Bates–Morse Mountain Conservation Area, which comprises 600 acres of woods, salt marsh, and Maine's last undeveloped barrier beach. For those of you who aren't familiar with this coastal treasure near Phippsburg, the Bates–Morse Mountain Conservation Area is a nursery for juvenile fish, a haven for rare plants and birds, and a peaceful sanctuary for all. Largely thanks to Judy's early planning for what has become an iconic example of Bates' environmental work, it remains one of the most beautiful, unspoiled parts of Maine.
Working with a complex oversight board, made up of members from the St. John family, which deeded the land, Bates, and the public — with environmental easements held by the Nature Conservancy and active involvement from state and federal government agencies — Judy crafted the original structure of policies that continue to guide how the land can be used for research and an environmental preserve.
As with any preserve, especially one as gorgeous as Bates–Morse Mountain, the danger is that it can be loved to death. To make sure that doesn't happen, Judy has struck a careful balance between preservation and access for its 20,000 annual visitors who hike in for stunning views as well as multiple forms of research. As an example of the work being done there, our own Professor Bev Johnson in the Geology Department is researching the amount of carbon stored in the preserve's tidal marshes, as well as the environmental outcomes if the tidal marshes are flooded by rising sea levels and that carbon is released.
And that's but one example of Judy's service. She's also chaired the Androscoggin Land Trust, for which she has put 200 acres of forest around her home in nearby Greene into perpetual conservation protection. Even in retirement, she continues to serve as a beloved and highly engaged advisor to the Bates Outing Club. As many of you know, she's hard at work with students and Outing Club alumni, planning for the organization's centennial celebration in 2020.
Judy, with your record of contributions to Bates — as a dedicated employee and member of the College Key and your Reunion Committee — it is my great honor to present you with this year's Helen A. Papaioanou '49 Distinguished Alumni Service Award.
---
On June 11, 2016, President A. Clayton Spencer presented the award to Leigh P. Campbell '64.
If you ask alumni from the mid-1970s to the early-2000s about their Bates experience, you'll hear a constant refrain: "My family and I wouldn't have been able to afford college without Leigh Campbell. He made Bates possible."
In his 39 years of service as a financial aid officer at Bates, most of that time as director, Leigh became a trusted confidant, adviser, and friend to thousands of students. With precision and foresight, he was a careful steward of the college's annual multi-million-dollar aid budgets. With compassion and integrity, he helped students and their families sort out their finances in pursuit of aid packages that met the need.
Many of you know firsthand Leigh's ability to find a solution — a scholarship, a loan, or a work-study job — that kept you and your friends at Bates. As a testament to the gratitude for his help and friendship, Leigh probably has been invited to more Bates weddings than any living alumnus. And as the official scorer of the men's basketball team since his return to Bates in 1973 — from military service in Vietnam and a stint in the private sector — Leigh has probably also attended more games than anyone else. It's no wonder that at a 2004 men's basketball reunion, alumni honored him as their "No. 1 supporter and friend."
That's how many of you — especially those of you who received financial aid — think of Leigh: your No. 1 Bates supporter and friend.
Leigh, with your record of contributions to Bates — as a dedicated employee and member of the Mount David Society, the College Key, and your Reunion Committee — it is my great honor to present you with this year's Helen A. Papaioanou '49 Distinguished Alumni Service Award.
---

In 2016, the award was presented to Donald P. Richter '46
Since graduating from Bates in 1946, Donald P. Richter has honored the college with his generosity, wise counsel, and professional achievements.
Before recounting the many and varied ways Don has served Bates, it's important to acknowledge his service to the nation. In the midst of pursuing a degree in government and history, Don left Bates in 1944 to serve as an officer in the U.S. Navy, spending 18 months as a navigator in the Pacific theater. He reentered the college with the Class of 1946 and graduated cum laude with membership in Phi Beta Kappa.
Don then earned a law degree at Yale and went on to practice with the Wall Street firm of Winthrop, Stimson, Putnam, and Roberts. He later specialized in corporate and federal tax law as a senior partner with the Hartford-based firm of Murtha, Cullina, Richter, and Pinney. His expertise in estate planning and federal taxation made him a highly sought-after lecturer for the American and Connecticut Bar Associations. Several corporations, schools, and nonprofits, including Smith and Winchester Manufacturing Inc., Suffield Academy, and Mount Sinai Hospital, wisely invited him to serve on their boards of directors.
Bates did the same, electing Don to the Board of Overseers in 1963 and the Board of Fellows in 1975. In his 31 years as a Board member, he served the college in myriad ways — as president of the Greater Hartford Bates Alumni Association, general chairman of the Central Connecticut Challenge Campaign, a member of the Bates Fund Executive Committee, and co-chair of his 40th Reunion Gift Committee — just to name a few.
Don and his wife, Jane "Penny" Frances Gumpright '46 — also have given generously to Bates. In 1987, they established the Donald P. Richter '46 and Penny Richter '46 Scholarship Fund, providing critical financial assistance to needy students. They have supported the Thomas Hedley Reynolds Professorship in History, the Oren B. Cheney Scholarship Fund, the Brooks Quimby Debate Council, and the Bates tennis program. In the first of three campaigns to which they gave, Don served as Hartford-area major gifts chair. Both are members of the Phillips Society, which honors those who have included Bates in their estate plans or other financial arrangements.
Don, you have generously and steadfastly served the college, your fellow alumni, and countless students who have benefited from your and Penny's philanthropy. Through your leadership and loyalty to the college, you inspire members of the Bates community. On behalf of the Bates College Alumni Association, it is our privilege and great honor to present you with the Helen A. Papaioanou '49 Distinguished Alumni Service Award.
---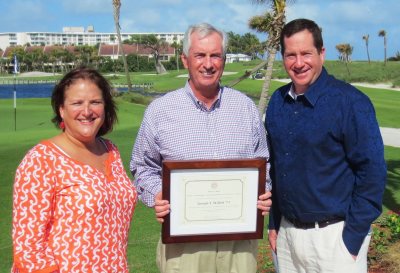 On December 28, 2015, Michael Lieber '92, president of the Alumni Association, and Lisa Romeo '88, vice president of the Alumni Association, presented the award to Joseph T. Willett '73.
Since he graduated cum laude from Bates with a degree in economics and mathematics and membership in Phi Beta Kappa, Joseph T. Willett has brought honor to the college through his achievements in international finance, his transformational philanthropy, and his devoted service to his alma mater.
Joe's journey to the upper echelons of business began in 1975, when — two short years after he graduated from Bates — he earned an M.B.A. from the University of Rochester's William E. Simon Graduate School of Business and began working at Chase Manhattan Bank. He joined Merrill Lynch in New York City in 1982 as director of financial planning and went on to serve the company in several leadership roles, including senior vice president and chief financial officer from 1993 to 1998. He was also chief operating officer for Merrill Lynch Europe, Middle East, and Africa, based in London, England, from 1998 until his retirement and return to the U.S. in 2002.
Quite fortunately for the entire Bates community, Joe also chose to share his wisdom, business acumen, and leadership skills with the college. He was elected to the Board of Overseers of the Bates Board of Trustees in 1995 and to the Board of Fellows in 1999. He was co-chair, with fellow trustee Thomas Renyi P'97, P'04, of the Campaign Committee for the successful $120 million campaign, Endowing Our Values. From 1997 to 1999, he was national chair of the Bates Fund. In 2001, he and his wife, Janice, established an endowed economics professorship at Bates in honor of Thomas Sowell, the nationally acclaimed economist, writer, and commentator. He was elected chair of the Board of Trustees in May 2006. While he was board chair, Joe worked tirelessly with President Elaine Hansen to advance the interests of the college.
Since his retirement from the board in 2010, Joe's service to the college hasn't abated. He has been a loyal member of the Cheney Society, the New York City Bates Business Network, and the Mount David Society Committee.

Joe, you are an invaluable and devoted champion for Bates, demonstrating the power of philanthropy and service to alumni, parents, and friends, who continue to be inspired by your example. On behalf of the Bates College Alumni Association, it is our privilege and great honor to present you with the Helen A. Papaioanou '49 Distinguished Alumni Service Award.
---
In 2014, it was awarded to William "Chick" J. Leahey Jr. '52.
As the Bates College baseball coach from 1955 to 1990, William "Chick" J. Leahey Jr. '52 taught hundreds of Bobcat ballplayers how to play at the collegiate level — how to field ground balls, throw strikes, and hit line drives. But there was so much more to his service to our college.
A member of this country's Greatest Generation, Chick Leahey grew up in Lewiston during the Great Depression. One of the city's best schoolboy athletes, he joined the Marines after graduating from Lewiston High School and served in the Pacific during World War II. Like many of his generation, Chick's wartime experience has stayed in the past. But we can guess that the experience of being an 18-year-old Marine, serving alongside boys no older than the students he would later coach at Bates, touched him deeply. After the war, Chick took a swing at the big time in the New York Yankees' farm system, but ahead of him in the Yankees' pipeline were the likes of Jerry Coleman and Billy Martin. The GI Bill meant opportunity, so Chick decided to enter Bates in 1948, then returned in 1955 to coach baseball and build an extraordinary record of service to Bates and Bates students.
In 36 seasons, Chick's baseball teams won 300 games. Five times advancing to post-season play, Bates won the regional ECAC championship in 1976, about as far as a NESCAC team could go in those days. Today, the name Leahey still means great baseball — literally, because the Bates baseball diamond is named for Chick. Less a field of dreams, it is a real reminder that Chick has passed along the gifts of integrity and character to generations of Bates athletes. As a coach and mentor, Chick treated his players with great respect while having great expectations for their leadership. Chick was the head coach, to be sure, but year after year he would give his seniors an ownership stake in the team, from helping with practice routines to even advising on final team cuts. As one Bobcat said just the other day, "The lesson he taught us was about empowering your lieutenants."
There is a multiplier effect of goodness that comes from playing college sports. Chick was fair and firm with his players, teaching them to compete fiercely yet honestly. He showed them that hard work, commitment and dedication were the ultimate transferrable skills. As his players graduated and raised families, they multiplied those values by volunteering to coach youth teams in their own communities. There are good youth coaches and there are bad ones. On this happy day, we can easily imagine that the ballplayers who played for Chick are some of the best because they took their cue from their old coach. As one Bobcat-turned-youth-coach said, "I've tried to model everything he taught me." That includes even the Maine slang used by Chick and his longtime assistant coach Bob Flynn. So if you ever attend a youth baseball game outside New England but hear the kids talk about "wicked" fastballs and "wicked" home runs, you might ask the coach if he played for Chick.
There's another former Bobcat, a pitcher, who does world-class research at Harvard Medical School, where he seeks to understand how genes affect complex motivated behaviors. When this researcher faces a vexing problem, he is urged on by a memory. His mind goes back to when he was on the mound, the team was in a jam, and Chick would shout encouragement from the dugout. The encouragement always came in three words: "Find a way!" he would yell. "Find a way!"
Chick, you have shown the way for countless Bates men across three generations. Your devotion to coaching has inspired pride and loyalty in all who have played for you, and you represent Bates' values in every aspect of your life. You set a standard of excellence that lives on in every aspect of Bates College, and it is my distinct pleasure to recognize you with the Helen A. Papaioanou Award.