Apprentice Learning: Building the Japanese Boat
Lead Practitioner: Douglas Brooks
Course Overview: This course seeks to expose students to a new way of learning through the process of building one or more traditional Japanese boats. We will as much as possible maintain complete silence in the workshop, broken only by the briefest instruction possible. It will be up to the students to focus, observe, and discover the answers to their questions. Most of them will probably be working with hand tools for the first time, but they will learn how to adjust and use them, and keep them razor sharp. Mostly, they will be sharpening something within themselves. Silence will give them the chance to hear their internal voice as they work.
Students will become proficient with basic hand tools such as planes, chisels, hammers, and saws. Some of the tools are specialized to Japanese boatbuilding. Students will learn about the properties of boatbuilding woods. The design and evolution of Japanese boats will be covered, along with discussion of the loss of traditional skills and the response in contemporary Japan.
Read and see photos about the Middlebury College Jan Plan course Douglas teaches!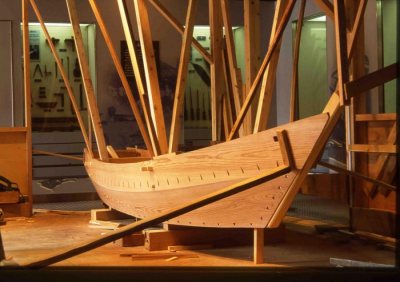 Learning Goals: 
Adapt to an entirely new learning style, one that requires the student to learn by observation only and not explanation.

Develop the critical hand tool skills necessary for the construction of one or more traditional boats (no prior woodworking experience is necessary for this class).

Develop the perseverance and discipline to work largely in silence.

Propose a final paper topic that is inclusive of the material and spirit of the class.

Learn to apply a close reading of their written drafts and edit their work into final form.

Reflect on the apprentice learning process and express oneself clearly in discussions, journals, and the final paper.
Instructor bio: Douglas Brooks is a boatbuilder, writer, and researcher specializing in traditional wooden boats. Since 1996 he has been documenting traditional Japanese boatbuilding. He has apprenticed with seven boatbuilders from throughout Japan. He is the sole apprentice for six of his seven teachers. His work has been honored by the Japanese Ministry of Culture and he was awarded the 2014 Rare Craft Fellowship from the American Craft Council. He has authored four books on Japanese boatbuilding and numerous articles published in the US, UK, and Japan. He has taught and lectured across the United States and Japan. His latest book, Japanese Wooden Boatbuilding, is the first comprehensive survey of the craft. He lives in Vergennes, Vermont.