Student Team
Purposeful Work Fellows

Students in this peer advisory role demonstrate exceptional interpersonal skills, a deep understanding of the exploration related to Purposeful Work, and proven success in aligning their Bates experience with their future plans.  Fellows work closely with the Center for Purposeful Work professional staff to:
Engage first-years and sophomores to launch their exploration process
Educate and guide fellow students through workshops, events and drop-in hours
Serve as role models by sharing their own experiences
Assist the Center in developing strategies to fully engage students, faculty, alumni and staff
---
2021-22 Purposeful Work Fellows:
---
Mary Corcoran '22
Mary Corcoran '22 is a Sociology major and Education Studies minor from Brookline, Massachusetts. Mary joined the PW team as an office assistant in the Fall of 2019, served as a Digital Marketing Assistant for three semesters and is now a Fellow for the Center. At Bates, Mary is a captain of the Women's Cross Country and Track & Field teams, a member of the CatsVCOVID team, and a research assistant for the Education department.
This past summer Mary worked for the Center for Purposeful Work on the PW Internship program both advancing the work of student interns by overseeing marketing projects as well as facilitating her own cohort of 15 students and engaging them in purposeful reflection. Simultaneously, Mary worked with Professor Patti Buck on an ongoing community engagement project with Lewiston Middle School to implement restorative justice by contributing to all aspects of grant writing, strategic planning, and web design.
Mary hopes to continue exploring her interests in education equity work, policy, communication and the intersections of the education and nonprofit sector in the future. She cannot wait to continue serving as an ambassador for Purposeful Work and looks forward to reaching more students this year as they explore their purpose!
---
Taylor Dionne '22
Taylor Dionne '22 is a pre-health Psychology major and a Chemistry minor with a concentration in English from Madawaska, Maine. On campus, Taylor serves as the President of the Chemical Society, and as the Treasurer of Fem STEM Friends, College Guild, and Club Med. She also works at the Bates College Store on online order fulfillment and is a mentor in the Bobcat! First program. Taylor joined Purposeful Work (PW) as a fellow in the fall of 2021 to help her fellow students put their best foot forward in their applications, whether it be for a job shadow or an internship.
Going into her sophomore year, Taylor became a STEM Scholar and currently serves as a peer mentor. In the summer before her senior year, Taylor interned through the Daniel Hanley Center for Leadership at the Maine Department of Health and Human Services as part of the Value-Based Purchasing team to make suggestions for Maine's own path forward. Taylor has also participated in numerous job shadows, one being at the Center for Forensic Psychiatry in Saline, Michigan where she was able to shadow under psychiatrists, psychologists, and a consulting forensic examiner. These experiences have aided Taylor in defining her career trajectory, where she currently aims to attend medical school and work as a psychiatrist. Listening to music, travelling, and concerts are amongst Taylor's favorite activities.
---
Daniah Foster '22
Daniah Foster '22 – more details and photo coming soon.
---

J. Daniel Kim '22
J. Daniel Kim '22 is pursuing an Economics and Mathematics double major with a concentration in globalization. On campus, JD is a part of the Manic Optimists a capella group and also a member of the club soccer team. During his freshman year, JD joined Purposeful Work as an office assistant. He decided to transition into a fellow position because he enjoyed working with students just like the fellows and alumni who help him. Going into his sophomore year, JD participated in two PW internships as a financial analytics intern at Calcbench and as an operations intern at BioSig Technologies. The following summer he participated in the Data Science Bootcamp at Flatiron and going into his senior year JD was a summer analyst at Barclays Investment Bank. Some of his hobbies include playing basketball, golfing, traveling, and cooking.
---
Amina Mohamed '22
Amina Mohamed '22 is a Neuroscience and History double major with a concentration in Digital and Computational Studies. Amina is originally from Ethiopia but resides in Tucson AZ. On-campus, Amina serves as Co-President of the Africana club and works as a program coordinator in the Office of Intercultural Education. Beginning in her Freshman year, Amina was a STEM Scholar, formerly known as Science Fellow, and currently serves as a peer mentor. Going into her sophomore year, Amina interned in the finance department of Harvard's Graduate School of Education. The following summer, she participated in a Purposeful work-funded internship at STEP College Prep, a nonprofit focused on helping low-income first-generation students apply to top colleges and universities. Most recently, Amina participated in two internships, one with Maycomb Capital where she previously had a job shadow, and one in the Bates Computational Vision Lab with  Professor Michelle Greene. Amina is passionate about science and its capacity to improve lives and increase equity.
---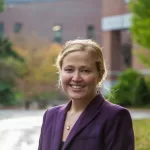 Nahida Moradi '22
Nahida Moradi '22 is an Economics and European Studies double major with a minor in Russian. On campus, she works as a Residential Coordinator (RC) and Athletic Facility Manager. As well, she is a member of Women in Economics (WE), women's club lacrosse, and international club. Nahida joined Purposeful Work (PW) as a fellow in the fall of 2021 to make the mission of PW—helping students to align their joy and purpose with what they do—accessible to students. In doing so, Nahida herself finds both happiness & purpose in making connections with students.
In the summer of her freshman year, Nahida interned for Bates Admission, learning and gaining experience in the admission business landscape. The following summer, she worked as an Economics research assistant, studying the effect of FDI on economic growth. This past summer, Nahida participated in a PW internship with Promethos Capital, working as an Environmental Social, & Governance (ESG) equity research analyst. These experiences have been valuable in her career exploration. Going forward, Nahida would like to continue this exploration, but in the short term she wants to gain more experience in the "green" finance and business world, including consulting.
---
James Peter '22
James Peter '22 is pursuing a Biochemistry major with concentrations in mathematical methods and culture and meaning. In the Fall at Bates, James will be joining the Purposeful Work team as a Fellow and is a member of the Bates Men's Soccer Team. James also has spent time working in the Lewiston/Auburn community, helping coach students in soccer with Rosati Leadership Academy and tutoring high schoolers in the SAT with Let's Get Ready. Last year, James participated in the Purposeful Work job shadow program, learning about Osteopathic medicine through Boston Osteopathic Health. In the summer of 2021, James worked with Overland Summers, leading backpacking trips for high school students in the Pacific Northwest. James hopes to use his knowledge of the Bates community and its resources to help students in pursuing their interests and future careers.
---
Rachel Retana '22
Rachel Retana '22 (she/hers) is an Identities and Interests Politics and Gender & Sexuality  Studies double-major with a minor in Africana Studies. Rachel is from Chicago, IL and identifies as Mexican-American. Rachel is a member of several affinity groups including Latinos Unidos and the Bates BSU. Additionally, Rachel is an active member of the Bates first-generation student program, Bobcat First!, serving as OIE/B1st fellow. Rachel has been a member of the  Res Life staff for two years, now a Residence Coordinator in Smith Hall. Through the Purposeful  Work Job Shadow program, Rachel has had the opportunity to explore the education field within  Chicago Public Schools. More recently, Rachel spent her summer of 2021 as a Summer  Teaching Fellow with Uncommon Charter Schools located in Brooklyn, New York, and is pursuing a full-time teaching position with the charter network for the 2022 academic year. You can find Rachel at several resource locations such as the ARC or the OIE as a tutor/mentor.  Rachel is passionate about serving as a resource to students this year!
---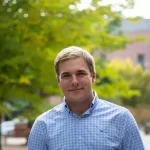 Adam Naddaff Slocum '22
Adam Naddaff Slocum '22 is pursuing a Politics Major, Philosophy and History Minors, as well as Law & Society, Middle East in Global Context, and Identity, Race, and Ethnicity Concentrations. An interdisciplinary student from Canton, Massachusetts, Adam is currently a Purposeful Work Fellow, Co-President of the Bates Legal Society, Residence Coordinator Team Leader of Rand Hall, and Community Liaison of the Men's Club Ice Hockey Team. Adam joined the Center for Purposeful Work in March 2021 and is dedicated to the mission of "aligning who you are with what you do". Passionate about immersing himself in the local community Adam has interned for two semesters at the Lewiston District Court on behalf of the Maine Volunteer Lawyers Project and completed a Purposeful Work Internship at the Lewiston Office of United States Senator Susan M. Collins. During his sophomore year Adam was a Junior Advisor to 18 first-years in Page Hall. Adam has completed four Purposeful Work Job Shadows, and hopes to attend law school and work as a litigator. Fishing, boating, debating, and trivia are amongst Adam's favorite hobbies.
---
Devanshi Trivedi '22
Devanshi Trivendi '22 is a Neuroscience major and Philosophy minor from India. She joined the PW team in Winter 2019 as the spring internship fellow and is now continuing on in that role alongside being a PW fellow. At Bates, Devanshi serves as the president of the International Club and has helped lead international student orientation for the past 3 years. She also works as a content and writing tutor at the Academic Resource Commons, and has been on the Campus Activities & Traditions Board. Last year, Devanshi participated in the Purposeful Work Job Shadow Program, learning about post-graduate opportunities in higher education with an alum teaching at Stanford. She has previously interned with Dr. Michelle Greene in her Computational Vision Lab in the summer of 2019 and worked as a full year research assistant with Dr. Martin Kruse in his Cellular Neuroscience Lab during the academic year. This past summer, Devanshi pursued a virtual research project with the Spinoza Centre for Neuroimaging in Amsterdam and worked on ultra-high field fMRI funded by a Dean of Faculty grant. She hopes to continue exploring her interest in the intersection between the Neuroscience of Learning and Educational Resource Development and is passionate about doing work that impacts and improves people's experiences. Some of her hobbies include reading, catching snowflakes and going on long walks.
---
Gabrielle Alpert '23
Gabby Alpert '23 is a Psychology major and Gender and Sexuality Studies and Rhetoric double minor from Short Hills, New Jersey. On campus, Gabby is a member of the club sailing team and an AESOP leader. At home, she loves watching movies with her family and spending time with her new puppy, Willow. Gabby has just started as a Purposeful Work Fellow this winter and is very excited to join the team!
Going into her sophomore year, Gabby was an intern for a start-up called Stix which delivers pregnancy and ovulation tests to people's homes. This past summer, Gabby was a marketing intern for the popular podcast, "Marriage and Martinis." She also participated in a Job Shadow with the Director of Digital Marketing at Nike. This upcoming summer, Gabby is very excited to be a Summer Intern in the Corporate Functions Develop Program at Bank of America in Charlotte, North Carolina.
Gabby is very excited to help her fellow classmates discover their passions and find the career path that is right for them through being a Purposeful Work Fellow.
---
Christopher Euston '23
Christopher Euston '23 is an Economics major and Geology minor from Marietta, GA. At Bates, in addition to joining the Purposeful Work team as a Fellow in the fall of 2021, Chris is a member of the Men's Varsity Soccer team, the Vice-President of the Investment Club, a campus tour-guide, and a member of the Circus Club. During his Sophomore year, Chris participated in a PW Job Shadow with UBS and worked as a Venture Capital Intern at Ideatrek in Boston, MA. Following his Sophomore year, Chris spent his summer in Atlanta, GA as an Investment Banking Summer Analyst at The Lenox Group, a boutique investment bank that offers merger & acquisition, as well as capital raising, services to the middle market. During the summer of 2022, Chris will be joining the Citizens M&A team in Atlanta to continue pursuing his career in investment banking. Chris is determined and excited to utilize his experience to help Bates students find the career that is right for them.
---
Digital Marketing Assistants
Students in the position demonstrate knowledge of Purposeful Work and have the desire and skills to creatively inform their fellow students about Purposeful Work. Digital Marketing Assistants work closely with the Coordinator or Marketing, Operations, and Outreach in order to:
Increase general knowledge of Purposeful Work as well as of specific events
Curate the Instagram @batespurposefulwork and maintain a strong student following and engagement
Photograph Purposeful Work events (on and off-campus)
Create print marketing materials
Implement other marketing and outreach as needed
---
2021-22 Digital Marketing Assistants
Adilene Sandoval '23
Adilene Sandoval '23 (she/hers) is a double major in Environmental Studies (with a concentration in Environmental Global Politics)and Sociology. Adi grew up in Both Michoacán, Mexico, and Washington state where she loves spending time in nature growing fruits and veggies. Adi is a member of Latinos Unidos, the Environmental Coalition, and the Bates Outing Club. Through the Purposeful Work 2021 Internship Funding program Adi had the opportunity to do a remote internship with Engage Globally, advancing community lead sustainable development in rural Ghana, while staying in Michoacán. Adi is passionate about advancing Purposeful's holistic philosophy of "aligning who you are with what you do" through the media she creates for the Purposeful Work Instagram. She hopes to attend grad school after Bates to pursue a master's in psychology and begin a career as a therapist. Adi's career and life goal is to align her passion for health and wellness with work that promotes health and wellness within the self, the planet, and the wider community through a social justice framework. Adi's hobbies include creating media content for her social media outlets, gardening, meditating, being active, and embracing the people she loves.
---
Purposeful Work Office Assistants
The Purposeful Work Office Assistants collaborate closely with the center's professional staff to provide premium customer service to students, alumni, employers, and other constituents. This position offers an excellent opportunity for students to develop communication, marketing, and organizational skills, and to gain an understanding of the center's career and internship resources, services, and opportunities.
---
2021-22 Office Assistants:
---
Ray Joseph '22
Ray Joseph is a senior from Norwood, Massachusetts. Here he is majoring in History with two general education concentrations. Ray's interest in History stems from his curious mind, and his inclination towards research and problem solving. At Bates he is involved in res life, co-President of Mays Men, and Anime club member. Ray is thrilled to be a supportive member of the purposeful work team.
---
Max Devon '23
Max Devon is a junior from Bryn Mawr, Pennsylvania. He is pursuing a double major in History and Religious Studies with a general education concentration in Digital and Computational Studies. When not in class, Max serves as the Digital Editor of the Bates Student, and is actively involved with Bates Jewish Student Union as Vice President.
---
Jessica Kissi '23
Jessica Kissi '23 is a double major in Biochemistry and French & Francophone Studies. Jessica is originally from Ghana and Togo, West Africa but lives in Chicago, IL. Jessica is passionate about inclusivity and an accessibility in STEM for minoritized individuals. As a result of this, Jessica, along with other students founded the Society of the Advancement of Chicanos/Native Americans in Science (SACNAS), under the mentorship of Dr. Lori Banks in the Biology department. She hopes having a SACNAS chapter at Bates will cultivate an environment where minorities interested in STEM will feel welcomed. She hopes to utilize this club to shed light on the many opportunities available for said students. Jessica has also participated in several job shadows through PW and highly encourages all students, especially first years, to take advantage of this, in addition to the many opportunities PW offers. She is excited to work with PW, as PW has made a great impact on her college career thus far!
---
Kilston-T'Naya Lee '23
Kilston-T'Naya Lee'23 is a junior from New York City. She is majoring in Africana and minoring in Gender Sexuality Studies. She has taken courses mostly focused around race, gender, and feminism such as Black Literary Feminist, Slavery in the Americas, and Queer Africana and Carribbean Literature. Besides joining the Purposeful Work tem as an Office Assistant, she works in the Athletic Department as a student aide for the Bates' sports teams. In her free time she attends club meetings with Black Student Union and Caribbean Student Association.
Caitlin Chan '24
Caitlin Chan '24 is a Mathematics and Gender & Sexuality Studies double major with a minor in Chinese. Caitlin joined the PW team during the summer of 2021 as one of their inaugural Summer Fellows. On-campus, Caitlin is a new member of the Women's Rowing team and will be returning to play for the Women's Club Ice Hockey team. Besides joining the PW team as an Office Assistant and Medical-Studies Fellow, you can also find them working with ARC, MSW, and the Gender & Sexuality Studies department. Specifically, as a Course-Attached Tutor for Dr. Diaz Eaton's FYS STEM Scholars, Drop-In Peer Tutor, and research assistant. She will also be a second-year STEM Scholar. Caitlin continues to pursue her academic and extracurricular interests as a leader for the Fem STEM Friends and Figure Skating club and as a member of Public Health Initiative and Asian American Students in Action. Caitlin is most interested in exploring how their studies may draw conclusions on the intersectionality of public health.
Ron Do '24
Ron is a Psychology and Philosophy double major and Education minor from Vietnam. He mostly participates in courses related to human development, and has a decent interest in Early Childhood Education.
As a Secretary of 2.B.E.A.T.S, the only hip hop dance club at Bates, Ron is responsible for managing financial resources and creating choreography for the club. Therefore, he is deeply fascinated by all forms of hip hop dance and eager to learn more about this performing art. Besides that, he also has a significant enthusiasm for Southeast Asian culture, inspired by his country Vietnam. Ron joined PW as an Office Assistant in hope that he can help students who are struggling with academic and career development understand the available resources and opportunities that are beneficial to their progress.
---
---