Bates College Alumni Council — 2020 Impact Work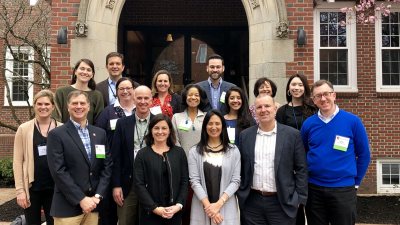 Below you will find some highlights from the work of the Alumni Council this past academic year. While the last four months have certainly been challenging for all of us in the Bates community, and we anticipate continued challenges in the months ahead, we are heartened by the many ways Batesies have rallied together to support each other and Bates.
Through our annual awards, we are recognizing six alumni this year for their commitment to the college, service to their communities, and distinction in their careers. While the coronoavirus pandemic has not yet allowed us to honor these distinguished alumni in person, we are committed to doing so at the earliest possibility. In the meantime, you can read more about their accomplishments, and join us in recognizing them virtually during Back to Bates. Please nominate outstanding alumni for us to consider in 2021.
Three members of the Alumni Council completed their terms in June 2020; we are thankful for the dedicated service of Larry Handerhan '05, Afroz Baig '11 and Keith Harvie '67. Normally at this time we would use this space to announce the newest members of the Alumni Council. However, given the uncertainty of the year ahead, it was decided to not bring new members on to the Council this year. If you are interested in serving on the Council in the future, please consider submitting a nomination. We will review past and new nominations in our 2021 deliberations.
Thank you for making our work representing Bates alumni so rewarding. Please do not hesitate to reach out to alumni@bates.edu if you are looking for ways to be more connected or have feedback — we are here for you.
It's a great day to be a Bobcat.

Jen Crawford '01, Alumni Council President
Kevin Moore '93, Alumni Council Vice President
Larry Handerhan '05, Alumni Council Past President
---
---
Impact Work – FY20 Accomplishments
While the Alumni Council has historically focused on virtual engagement, in FY20 the Council doubled down on virtual outreach to support the college's response to the COVID-19 public health emergency.
1. Increase engagement of alumni through virtual platforms and meaningful volunteer experiences.

Council Champions: Kevin Moore '93 and Cat Djang '13
Highlighted FY20 accomplishments:
✔ After the COVID-19 public health emergency, shifted to support the college as it reshaped regional and alumni engagement activities to virtual platforms.
✔ Identified and selected 4 alumni for social media "take-overs", #LifeOutsideTheDen.
✔ Helped to identify alumni helping communities through this crisis (on the front lines or in other ways) to participate in sharing their stories on social media.
✔ Created second " 'Cat Chat" virtual panel in March 2020, Student Voices: Summer Internship Reflections, receiving 56 registrations and reaching 23 unique viewers.
✔ Created video and letter from the AC to the graduating Class of 2020 welcoming them to the alumni community.
2. Support and further goals of Purposeful Work Initiative.

Council Champions: Tracy Peacock '94 and Katie Hawkins Vail '05
Highlighted FY20 accomplishments:
✔ Partnered with the Office of Purposeful Work in the roll-out of Bates Bridge, including early pilot testing, seeding virtual discussion section; and promoting among alumni. As of June 30, 2020 there were 741 Registered Alumni and 52,115 total user actions.
✔ Planned and executed two virtual panels in May 2020 highlighting current alumni:
"How Athletics Impacted Career Discovery and Networking" highlighting alum sharing how athletics impacted their career discovery process.
"Wisdom and Resilience In a Tough Economy" connecting students with alumni from the class of 2009, to discuss strategies on looking for jobs in a tough economy.
✔ Designed a "Wisdom Document" with written and visual testimonials from Alumni on their strategies for survival in a tough economy.
3. Enhance attendance at Campaign events and identify best practices for regional and Reunion events.

Council Champions: Don McDade '74 and Jeremy Chase '91
Highlighted FY20 accomplishments:
✔ In light of the Covid-19 public health emergency, pivoted to help regional volunteer leaders reach out new Bates alums from the class of 2020.
✔ Developed a pilot initiative in Denver which included a Purposeful Work launch event to serve as the foundation for a Bates leadership volunteer group (event postponed due to Covid-19)
✔ Alumni Council members were leaders in virtual reunion programming and helped create class-specific reunion gatherings.
Recognition of Excellence
Council Champions: Larry Handerhan '05 and Jen Crawford '01
2020 Alumni Award Winners:

✔ Alumni Community Service Award: Bud Schultz '81
✔ Distinguished Young Alumni Award: Sangita Murali '12/Maggie Reilly Fidler '12
✔ Helen A. Papaioanou '49 Service Award: Irwin Flashman '65
✔ Sesquicentennial Prize: Amy Bass '92
✔ Bruce Stangle Award for Distinguished Service: Ben Lowenstein '92 P'23
In 2020, the Council reviewed 30 nominations for Alumni Awards and 40 nominations for the Alumni Council.
---
Meet your Alumni Council – Membership 2019-2020
24 alumni representing 6 decades, 17 classes and 10 States
Larry Handerhan '05 – President
Washington, DC
Serving since 2010
Jennifer Crawford '01 – Vice President
South Boston, MA
Serving since 2015
Afroz Baig '11
Oakland, CA
Serving since 2017
Dan Barsky '03
Miami Beach, Fla.
Serving since 2019
Steve Brackett '85 P'22
Boston, Mass.
Serving since 2019
Jeremy Chase '91
Larchmont, NY
Serving since 2016
Cat Djang '13
Brooklyn, NY
Serving since 2017
Leah Elsmore '12
Denver, Colo
Serving since 2019
Fadia Felfle '15
New York, N.Y.
Serving since 2019
Keith Harvie '67
Manchester, ME
Serving since 2018
Katie Hawkins Vail '05
Portland, ME
Serving since 2017
Mike Hogan '85
San Francisco, CA
Serving since 2016
John Howard '86
Cos Cob, CT
Serving since 2018
Sagun KC '00
Boston, Mass.
Serving since 2015
Karen L. Finocchio Lubeck '92
Marblehead, MA
Serving since 2018
Lance Matthiesen '85
Washington, D.C.
Serving since 2019
Don McDade '74
Portland, ME
Serving since 2018
Kevin Moore '93
Hanover, MA
Serving since 2017
Aya Murata '92
Andover, MA
Serving since 2016
Tracy O'Mara Peacock '94
Wilmette, IL
Serving since 2016
Erica Seifert Plunkett '86
Holliston, MA
Serving since 2017
Monica Rodriguez '12
New York, N.Y.
Serving since 2019
Jeff Snyder '00
Glastonbury, CT
Serving since 2018
Arsalan Suhail '09
Lebanon, NH
Serving since 2017
---
Governance — FY20 process Improvements:
✔ Hosted first-ever Virtual Alumni Council Meeting (January, 2020) and pivoted Alumni Council to support the college's highest needs after the COVID-19 public health emergency
✔ Streamlined Awards Vetting Process and begun reevaluation of Award Descriptions
---
Guiding Principles of Leadership – FY19 and FY20
Build on recent governance successes and improve subcommittee effectiveness through staff liaison and co-chair training. Add at least one "Deep Dive" brainstorm session to each meeting
Support opportunities for every alum to feel connected to the Campaign
Increase Alumni Council profile among alumni and Bates community by instituting a Year in Review summary, market and highlight alumni awards, and advertise new members.
---
Contact Us
Alumni Engagement
2 Andrews Road
Lewiston, Maine 04240
Phone: 1-888-522-8371 alumni@bates.edu