New All-Glass Squash Singles Court
(renovation)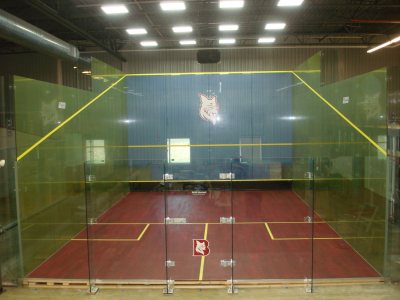 Architect:  Bates
Contractors:  Hebert Construction, McWIL Squash
Completion Date:  Fall, 2014
Total Square Feet:  ~2,600
Programmatic Drivers:
Our existing five courts present a challenge for completing a men's and women's squash meet within a reasonable amount of time.  The addition of a sixth court greatly reduces the overall meet time, making Bates a much more desirable location to host squash competitions.  The new sixth court is an all glass walled court along with new LED lighting and an LCD TV scoreboard, make the Bates facility even more unique..
The existing restrooms are being replaced with two full restrooms, each with an accessible shower.   Two team rooms with lockers are being added as well.