Washer and Dryer Information
Most student housing locations on campus have washers and dryers that are owned and serviced directly by a third-party provider, CSC Serviceworks. Facility Services does not repair machines owned and operated by CSC Serviceworks. The quickest way to get a machine fixed is to submit your own service request directly to CSC Serviceworks.
CSC Serviceworks provides a barcode, a toll-free number, and a QR code to make requesting repair service easy for students to accomplish directly. There is a mobile application available to submit service requests and a website where you can monitor the status of laundry machines in every building.
Follow the instructions below, or in your building's laundry room, to access the LaundryView website that will show you what machines are in use, available, or in out of service.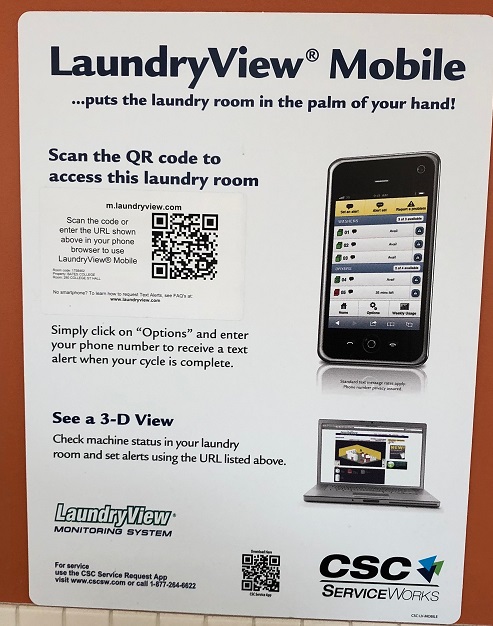 At the bottom of the notice is another QR, toll-free number, and website. Scanning the QR will bring you directly to the appropriate app store to download the CSC Service Request application onto your phone or mobile device. Once logged into the application you may scan a machine's barcode directly to request service.

Another option is to log into their website or call the toll-free number noted and provide CSC with the unique ID of the machine along with the issue (shown below).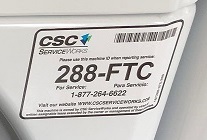 There are several overflow houses that have washing machines and dryers serviced directly by Bates Facility Services. If you are doing laundry in one of these buildings and experience an issue, please contact Facility Services work request to report it. Facility Services will likely need to contact an outside service provider to fix the issue, which could take several days. Locations that have Bates-owned machines are:
100 Nichols- 1st Floor Apt
100 Nichols- 2nd Floor Apt
100 Nichols- 3rd Floor Apt
108 Nichols- 1st Floor Apt
108 Nichols- 2nd Floor Apt
108 Nichols- 3rd Floor Apt
126 Wood- 1st Floor Apt
126 Wood- 2nd Floor Apt
205 College
207 College – Apt #1
207 College – Apt #2
350 College
356 College
80 Central
84 Bardwell
85 Franklin
94 Russell