Grading Feedback
Instructors have the ability to give written, image, audio, video, and file feedback to students on assignment activities that include a text box. Note that the audio and video recorded using the methods described below will not work with Safari on Mac or iOS. Instead, we recommend using Google Chrome or Firefox. Note that .heic files taken from iPhone cameras will not convert and will instead appear as a blank page.
Faculty can also include these types of media when creating an activity. For example, when setting up an assignment, forum or quiz, instructors can give a written description, an audio recording, or a video clip (these are highlighted in red). In the text box, the audio can be recorded by selecting the microphone icon. Similarly, to record video select the camera icon. Below you will see a text box where both of these icons are highlighted in red, as well as an example of a written description, an audio description, and a video description. Note these are limited to 5 minute recordings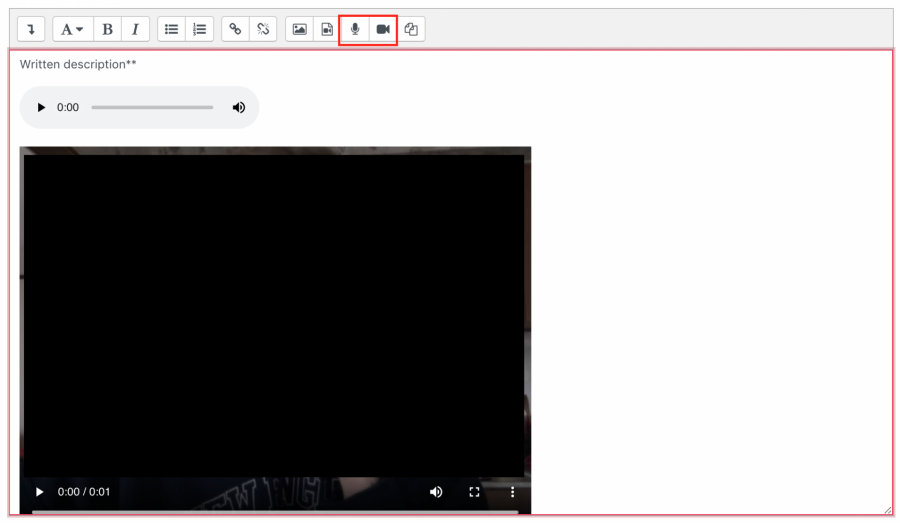 Note image and file feedback are not as commonly used, but can be added via the 'Images' icon and the 'Files' icon.
Instructors can insert feedback directly within student assignment submissions while grading. There are multiple ways to give feedback, including written comments, grades, notes on the document, stickers, etc. Once the feedback is complete, instructors can save it and students will be able to view it alongside their grade:
Navigate to the assignment you would like to grade after the submissions have been collected or the deadline has passed. Select 'Grade' to give feedback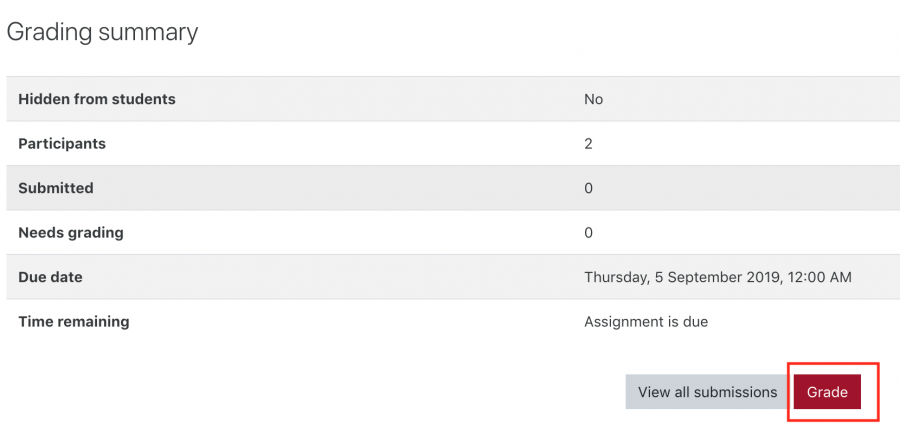 You will be directed to the grading environment, where it can take some time to convert all of the student files and written text to PDFs.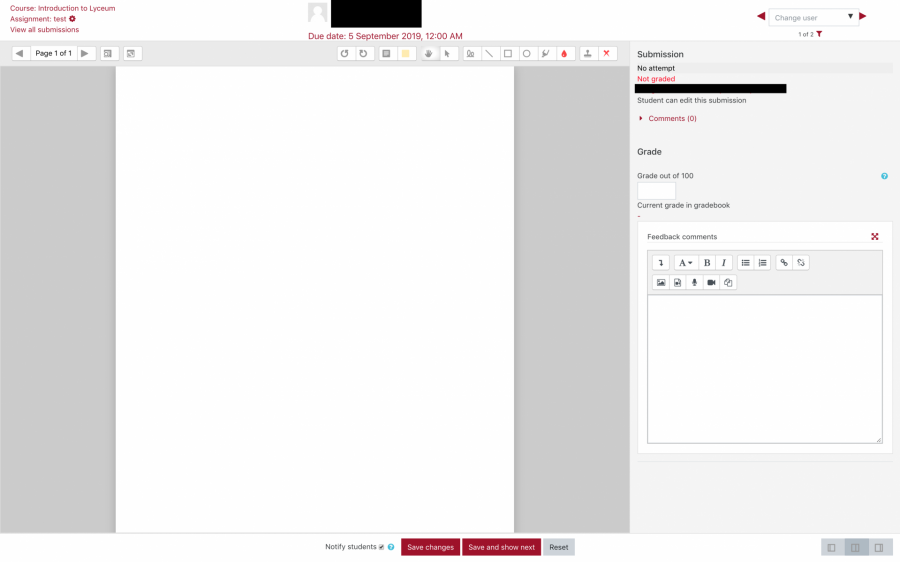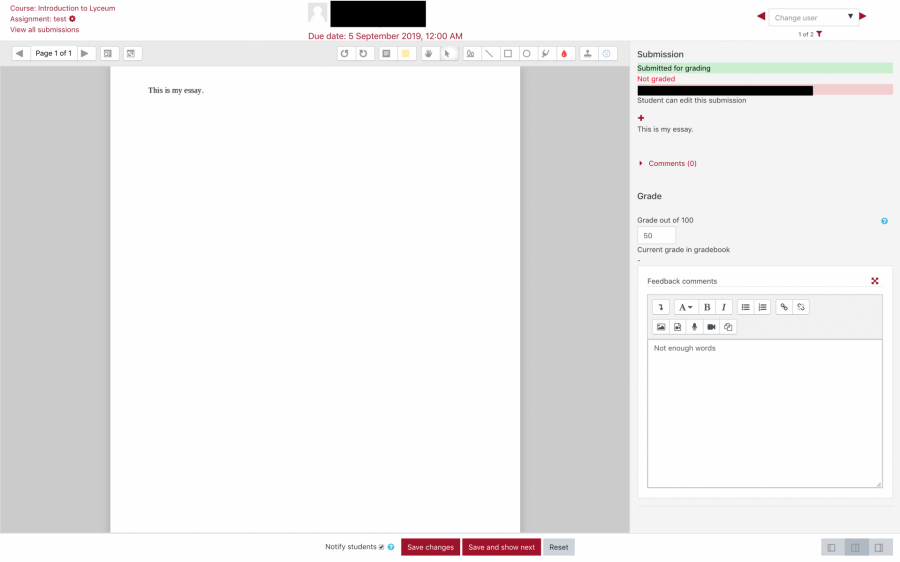 Below is an explanation of each feature you can use to give different types of feedback on an assignment:
Slide 1/13 – This is the general feedback area, where you can include a grade, written feedback, audio feedback, or video feedback (highlighted in red)
Slide 2/13 – This is the toolbar that shows all of the ways you can navigate and annotate a submitted assignment
Slide 3/13 – This displays the amount of pages in the submitted assignment. Click the left arrow to go to the previous page and the right arrow to go to the next page
Slide 4/13 – The 'Search comments" field is helpful for those who like to add a lot of comments within a student's submission
Slide 5/13 – These icons allow you to move the document around clockwise and counter clockwise
Slide 6/13 – The hand icon allows you to move the actual document around by 'grabbing' the document. This is helpful if you were to zoom in and then move around the document. The mouse icon allows you to select the changes you add to the students document. For example, if you were to add a stamp to the students document, you can then select it and delete it. You will see what that looks like in slide 7/13
Slide 7/13 – Deleting a stamp example
Slide 8/13 – This icon will let you add comments directly onto the student's document. This is used most commonly for adding comments to specific sections or sentences. You can then change the background of the comment text box to be either a color or transparent.
Slide 9/13 – How a comment will appear after creating one on a document
Slide 10/13 – From left to right – The first icon allows you to add your own writing onto the document. The second, third and forth icons allow you to add a line (i.e. strike through a sentence or word), box, and circle. The fifth icon allows you to highlight a sentence or word, and the sixth icon allows you to choose the colors you would like these features to be
Slide 11/13 – This icon allows you to add a stamp to the document ('X', frown, smile, or a check)
Slide 12/13 – This is an example of adding feedback to the general feedback section, where there is a grade, written feedback, and audio feedback
Slide 13/13 – This is an example of adding feedback onto the document, where there is a stamp at the top right side of the page
Once you are done with the feedback on a student's assignment you can move to the next student document by using the 'Change user' field at the top right, or selecting 'Save and show next' at the bottom. You can type in a student's name or select the left and right arrow to move from documents within the 'Change user' field. You can select 'Save changes' to save the current document changes and exit. You can also select 'Reset' to reset the entire document to how it was originally (deleting all feedback). If you would like to notify the students once you are done grading their document, uncheck the 'Notify students' box
Giving File Feedback
If you would like to give feedback to a student in the form of a file, you can drag and drop/select to upload it form your local computer through the Feedback Files section (below the Feedback comments section):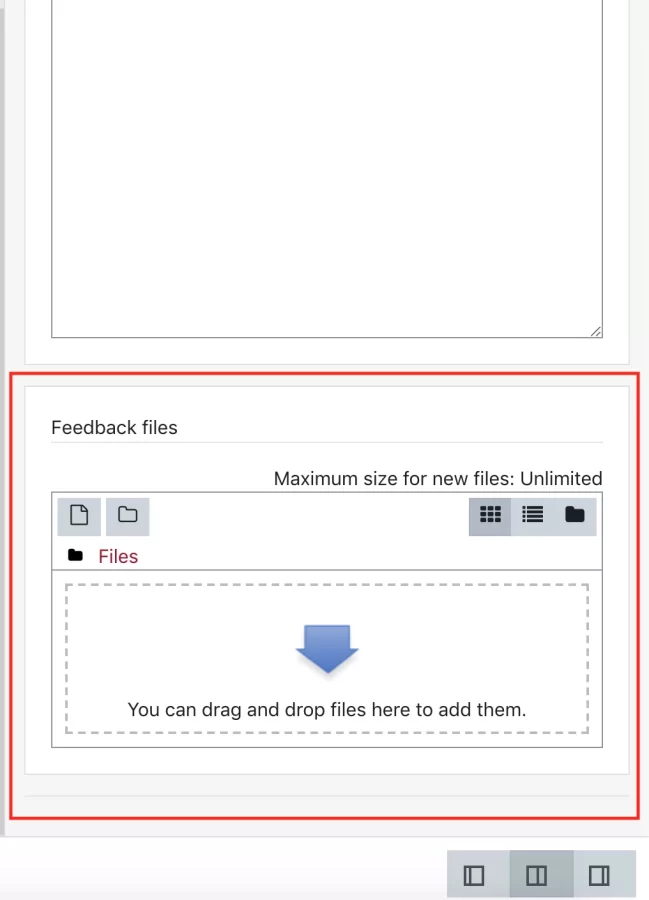 Once uploaded, you can view if your file saved to the students by View all submissions and view the Feedback file column, example below: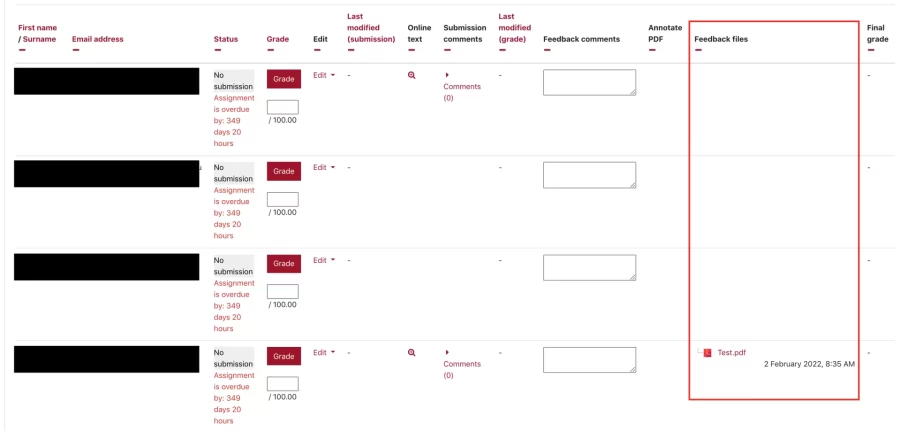 Giving Quiz Feedback
If you would like to give feedback, including audio or video, on an essay quiz or exam, you can do so when grading, as shown below: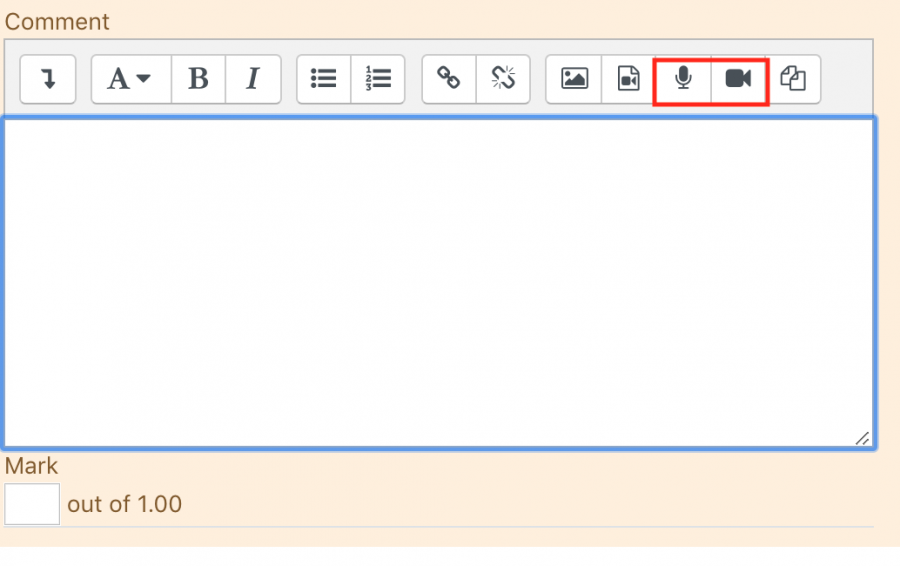 Giving Forum Feedback
Forums give you the ability to record audio and video and post them as a discussion topic, as well as as a reply to a discussion thread. For example, if an instructor is teaching a French language course, a discussion topic can be created where students must reply in French:
Navigate to the Forum where you would like to add a discussion topic. In the text box, select how you would like to post the discussion (written, verbal, visual, etc.). Select 'Add a new question' and create your message. Note that you can use all of these options when posting your discussion, if you would like.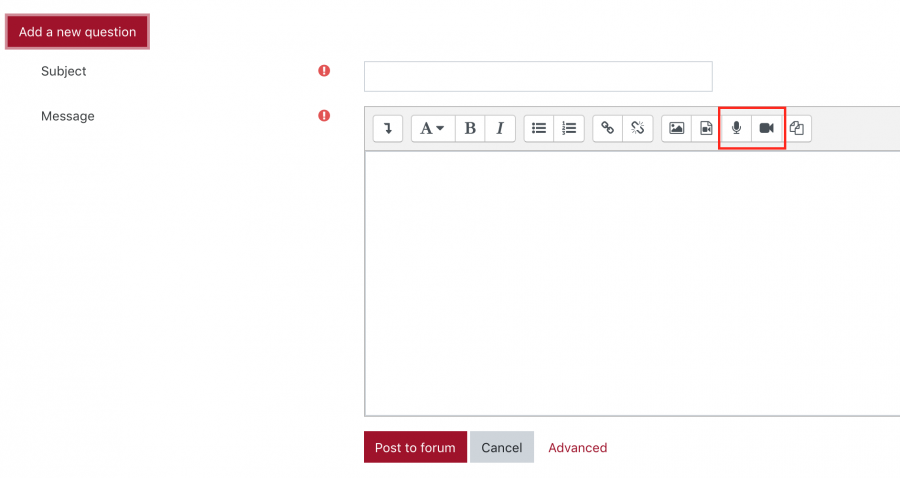 To reply to a discussion, select the discussion and hit 'Reply' and 'Advanced'

Customize your reply and select 'Submit'